United Kingdom
US midterm elections 2022: Biden hails Democratic victories even as Congress control remains in limbo – live | US midterm elections 2022
Biden: 'The giant red wave – it didn't happen'
At the beginning of his remarks, Biden took a cautious victory lap following Tuesday's midterm election results, celebrating gains Democrats made after a predicted Republican victory.
"While the press and the pundits were predicting a giant red wave – it didn't happen," said Biden, adding that many results in key races are still being tallied.
Key events
Midterms 2022: Biden cheers results with key races still unclear
It's still unclear which party will control the House and Senate, but Joe Biden expressed optimism today, relishing Democrats' unexpected show of strength in the midterm races that have been decided so far. It may take days or weeks before we know the balance of power.
Here's what we've learned today so far:
Republican Tom Kean Jr has unseated Democratic incumbent Tom Malinowski in New Jersey's most contested race.
This was a vindication for Kean after he narrowly lost to Malinowski two years ago, in a slightly different district.
"While we did as well or better than in 2020 in the communities I have represented these last four years, and I expect the results to tighten further as all votes are counted, the new district proved too much of a hurdle to overcome," Malinowski said. "I'm gratified that across the country, Americans chose moderation over Maga, while passing referenda protecting a woman's right to choose."
Kean has a long, long political lineage in New Jersey. His father was governor, and co-chair of the 9/11 commission. His grandfather was a congressman, and his great-grandfather a senator. His great-great-great-great-grandfather was a delegate in the Continental Congress.
Democrat Jahana Hayes has won re-election, fending off challenger George Logan in a race that Republicans had heavily targeted.
Hayes became the first Black woman to represent Connecticut in Congress when she was elected in 2018. This year, she focused on reproductive rights issues and her record of bringing money into her district.
Republicans poured in millions, hoping to flip the seat as part of what they anticipated would be a red wave.
In a newly formed Colorado district, Democrat Yadira Caraveo has picked up a closely contested seat, besting Republican Barbara Kirkmeyer.
Caraveo will be the first Latina to represent Colorado in congress, with Kirkmeyer conceding Wednesday night.
The district, which includes the northern suburbs of Denver, was ranked a toss-up. Nearly 40% of residents in the district are Latino.
Caraveo is a state legislator and pediatrician. She emphasized economic and cost of living issues in her campaign, as well as reproductive rights.
Read more:
Progressives had a lot to smile about as they woke up on Wednesday morning, after many of their preferred candidates won crucial races in the US midterm elections.
House progressives held on in closely fought races and appeared poised to expand their ranks, even as control of the lower chamber remained up for grabs on Wednesday. Dozens of progressive members of Congress secured re-election, including embattled incumbents like Angie Craig, whose Minnesota district was considered a toss-up.
As sitting lawmakers fended off Republican challenges, progressive House candidates like Summer Lee of Pennsylvania and Greg Casar of Texas won their first congressional races. Lee's victory was a particular point of pride for progressives, given that she previously won a hard-fought primary after the pro-Israel group Aipac spent millions trying to defeat her.
"The loser of the night is Aipac who revealed they were totally willing to sabotage Democratic chances of keeping the majority, set $4m on fire in an attempt to beat Summer Lee, and still lost," Leah Greenberg, co-founder of the progressive group Indivisible Project, said on Twitter.
Some new members of the Congressional Progressive Caucus are set to make history as they prepare to join the House. The Florida Democrat Maxwell Frost, who organized with the American Civil Liberties Union and has called for universal healthcare on the campaign trail, will become the first Gen Z member of Congress. Becca Balint, who was endorsed by the progressive senator Bernie Sanders, will be the first woman and the first out LGBTQ+ politician to represent Vermont in Congress.
Read more:
The Guardian's Sam Levin and Lois Beckett in Los Angeles report:
A billionaire real estate developer and a Democratic congresswoman are still locked in a tight race to become the next mayor of Los Angeles, in a record-breaking campaign where political spending topped $120m.
On Wednesday morning, the margin of votes between Rick Caruso and Karen Bass was still too close to call, with the candidates virtually tied, the Associated Press reported.
Caruso was ahead by 12,000 votes on Wednesday morning local time, with nearly 80% of expected votes remaining to be counted.
Bass told supporters at her election party that the vote counting could take days, but added: "We will win, because we are going to build a new Los Angeles." Caruso told his crowd: "We don't know the outcome yet, but I'm happy to say that we're starting out strong."
In another closely watched LA race, the incumbent county sheriff, Alex Villanueva, was trailing his opponent, the former police chief of the city of Long Beach Robert Luna. Villanueva, a Democrat who took a hard turn to the right since his election in 2018, has been derided by some as the "Donald Trump of LA" due to a steady stream of controversies surrounding obstruction, abuse and misconduct cases.
Both nominally Democrats, Bass and Caruso come from starkly different backgrounds and their down-to-the-wire contest comes at a particularly fraught time for Los Angeles.
The region's homelessness crisis has become a humanitarian catastrophe, with LA county recording 69,000 unhoused people in this year's annual estimate, considered an undercount, including more than 48,000 living outside.
During the campaign, Caruso made it clear he would like to roll back some criminal justice reforms in order to impose tougher penalties for theft, and suggested he would be willing to arrest unhoused people who were unwilling to move into shelters.
Joe Biden has spoken with House minority leader Kevin McCarthy, the White House said.
Republicans are inching toward a majority in the House, but the balance of power in the chamber remains unclear. Still, McCarthy, a Republican from California, has already announced his bid for House speaker.
In a letter to Republican colleagues, McCarthy expressed confidence that Republicans would take the House. "I am running to serve as Speaker of the People's House and humbly ask for your support," he wrote.
Democrats still have a chance of keeping control of the House, though Biden confirmed earlier today that he would be speaking with McCarthy.
In Colorado, far-right firebrand Lauren Boebert is virtually tied with her centrist Democratic challenger Adam Frisch, with only a few dozen votes separating them.
Once the remaining votes, including military and overseas votes are counted, an automatic recount will be triggered as the margin of victory is less than 0.5% of the winner's total votes.
Boebert has made a name for herself targeting fellow representative Ilhan Omar with Islamophobic comments, carrying a gun at the Capitol, heckling Joe Biden and promoting baseless QAnon conspiracy theories.
Which party will control the Senate? It boils down to three races.
The question of whether Democrats or Republicans will control the Senate will be answered in Nevada, Arizona and Georgia.
The race between Democratic incumbent Raphael Warnock and Trump-backed Republican Herschel Walker in Georgia will be decided in a runoff on 6 December.
In Nevada, Democrat Chatherine Cortez Masto is trailing republican Adam Laxalt, but still has a chance of winning as more votes are tallied.
And in Arizona, it may be a while before it becomes clear whether Democrat Mark Kelly will maintain his lead over Republican Blake Masters, though things are looking promising for the former.
Democrats can keep control of the chamber by winning just two races and having vice-president Kamala Harris as a tie-breaking vote.
'Votes still being counted' in Nevada's tight Senate race
Dani Anguiano in Las Vegas, Nevada, reports:
The outcome of the Senate race in Nevada, home to one of the closest contests in the country, may not be known for several days as election workers continue to process mail-in ballots.
The fate of the Senate could hinge on the race in Nevada where incumbent Catherine Cortez Masto, the first Latina senator, is fighting to keep her seat against Republican Adam Laxalt, a former attorney general in the state who aided in Donald Trump's efforts to overturn the 2020 election.
Cortez Masto had an early lead on Tuesday night, but by Monday morning Laxalt was ahead with 49.9% of the vote to the senator's 47.2% with 63.6% reporting, according to the Associated Press. Both candidates have urged patience as residents wait to hear the outcome of the race and several other close elections.
"The votes are still being counted. We know this will take time and we won't have more election results for several days," Cortez Masto said at an election night gathering. "I am confident in the campaign that we have built to win."
Laxalt, who was endorsed by Donald Trump, said he was confident the results would favor him, telling supporters Tuesday night: "We are exactly where we want to be in this race."
"When we win this race, I'm gonna support our police and fight to make our streets safe again. I will not rest until we've secured our southern border," he said. "We're in for a long night and even a few days into this week as all the votes are tabulated. We're confident that the numbers are there and we're gonna win this race and take back Nevada and take back America."
Republicans inch toward House majority, but key California races are still unclear
The path to a House majority snakes through California, the most populous US state with the biggest House delegation.
Although the state overall is solidly blue, several House districts here are competitive, especially after redistricting. Some of the races we're closely watching:
– Representative David Valadao, one of the few Republicans who voted to impeach former Trump, started off with a lead but most votes have yet to be tallied in a hard fought race against Democrat Rudy Salas. This was the second-most expensive House race in the country.
– In the central valley, Republican farmer John Duarte and Democratic assemblyman Adam Gray are running neck and neck.
– Republican congressman Mike Garcia is leading ahead of Democratic assemblywoman Christy Smith, with less than half the votes tallied.
– In southern California, Democratic star Katie Porter is narrowly leading Republican Scott Baugh, in a fierce race.
– And in a race that has been marked by especially vitriolic campaigning, Republican representative Michelle Steel has a sizable lead over Democrat Jay Chen, with less than half the votes tallied in a new, largely Asian American district.
Democrat Cindy Axne has conceded her Iowa House seat to Republican Zach Nunn, in a closely watched contest.
The results in Iowa's third district inches Republicans closer to control of the House. Two-term congresswoman Axne was the only Democrat in the state's delegation.
She was elected to office in 2018, and in 2020 she was one of only seven Democrats to win a district that backed Donald Trump. This year, she was running in a slightly redder district.
Nunn has served eight years in the state legislature. He has expressed support for a total abortion ban.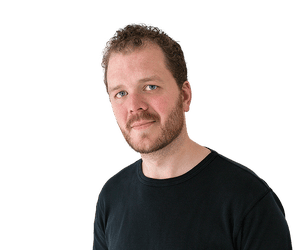 Martin Pengelly
A senior Trump adviser, Jason Miller, said earlier he was "advising the president to hold off" announcing his 2024 presidential run "until after the Georgia race".
Donald Trump has trailed an announcement of his third run for the Republican presidential nomination, possibly as soon as 15 November. But such thinking was reportedly based on expectations of Republican midterms success which Trump could claim on his own.
The GOP's disappointing performance on Tuesday – the Georgia race is the runoff a month from now between Herschel Walker, Trump's anointed Senate candidate, and the incumbent Raphael Warnock – may have put a dent in such thinking.
So might the contrastingly impressive win enjoyed by Ron DeSantis, the Florida governor who is Trump's clear chief rival for the presidential nod, should he choose to run.
Trump has continued to target DeSantis with criticism, posting earlier on his own platform, Truth Social, that he got more votes in Florida in 2020 than the governor did this year and shouldn't that be mentioned now?
As it happens, another possible contender in 2024, Mike Pence, has today released a lengthy extract from his new memoir, dealing with January 6.
Pence describes Trump's behaviour towards him in some detail. He also, bizarrely, seems to blame the anti-Trump Lincoln Project for enraging Trump with a political ad, thereby fueling the anger that incited the Capitol attack.
Rick Wilson, a Lincoln Project co-founder, tells the Guardian: "It's no secret that the Lincoln Project has lived rent-free in Donald Trump's head since 2019. Mike Pence telling this story is one more powerful testimony to just how our 'audience of one' strategy unfailingly disrupts Trump world."
Wilson also said: "Seriously, I cannot get over Mike Pence blaming the Lincoln Project for January 6. Cannot."
On Twitter, Wilson linked to the ad.
More on the Pence book here:
Democrats in Pennsylvania are celebrating after declaring that they have won the state house.
While some votes are still being counted, Pennsylvania Democrats announced during a press conference on Wednesday that they had the 102 seats necessary to flip the state house, a feat that hasn't occurred since 2010, reports CBS News.
Pennsylvania Democrats have had a victorious Tuesday election night, winning all three of the most competitive congressional races in the state and the contentious race for US senator between John Fetterman and Mehmet Oz, reports AP.
The state's delegation in the House will now be broken down 9-to-8, Democratic-to-Republican, AP further reports.
Nevada Republicans have criticized Biden for prematurely declaring victory for Democrats in three reelection races in the state during his press conference.
From Las Vegas Review-Journal's Gary Martin:
Some stats on Biden's press conference from CNN's Mark Knoller:
As WBNA player Brittney Griner is moved to a Russian penal colony on Wednesday, Biden spoke about his intention to bring her home during his press conference.
Such colonies are known for abusive treatment of inmates, overcrowding, and harsh conditions, reports the New York Times.
Read the latest on her case here.
Biden's press conference is now over!
Final question of the conference was about the state of a potential alliance between China and Russia.
Biden replied that he doesn't see it as a particular alliance, adding:


https://www.theguardian.com/us-news/live/2022/nov/09/midterm-elections-2022-results-senate-house-us-democrats-republicans-live-updates-latest-news US midterm elections 2022: Biden hails Democratic victories even as Congress control remains in limbo – live | US midterm elections 2022