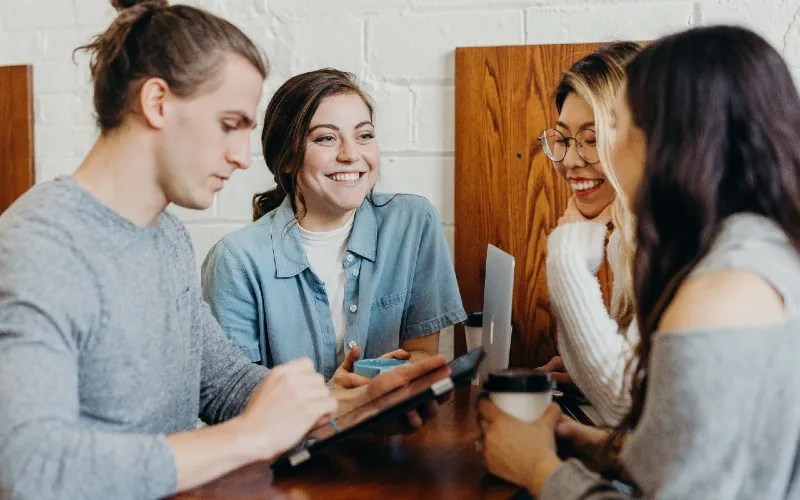 EdTech
Offers
An online platform for freelancers has partnered with three London universities to help students market their skills.
UnderPinned says the world of work is changing and students don't have the opportunity to develop careers for the increasingly hybrid workforce.
The partnerships give approximately 22,200 students – at the University of the Arts in London, London College of Communication, St Mary's University in Twickenham and the London Metropolitan – access to its online platform which provides a "virtual office", including tools to build a freelance portfolio, find and manage clients and projects, and produce invoices and contracts.
Students can also participate in a Freelance Business Accelerator program, a comprehensive online course with modules that help students learn how to evaluate their work, introduce clients, and build their own portfolios.
According to the latest ONS data, there are 4.1 million self-employed, i.e. those who run their own business, and they represent around 14.8% of the UK workforce. The UK ranks second globally in terms of the proportion of its workforce that is independent, ahead of the US, Germany and France and behind only Italy.
The latest recent data available, however, also shows that people under the age of 24 make up only 3.8% of the UK's self-employed. For comparison, those aged 50 to 54 make up 13.7% and those aged 45 to 49 make up 13%.
The analysis shows that there is also a significant gender gap, with the self-employed in the UK being 65% men and 35% women.
"The UK is fundamentally bad at vocational education. We produce some of the most skilled people in the world, but we fail to provide them with the knowledge or tools they need to build a business around their capabilities, "said Albert Azis-Clauson, CEO.
"Our educational commitment to getting people into full-time jobs is fundamentally damaging the opportunities for young people. Companies are increasingly turning to freelancers and hybrid workers, but the self-employed are disproportionately older.
"Whether directly entering the free profession or a new form of hybridized work, young people must have access to the knowledge and tools to market their skills in the modern world of work if they are to be successful.
"It's great that London universities recognize this fundamental shift from traditional linear career paths. The capital is one of the best places in the world to be an entrepreneur, but that's just the beginning – we plan to expand and partner with universities across the country to help give students of all backgrounds and ages the confidence needed to become freelancers and to offer companies access to the flexibility and skills of freelancers who could transform their business ".
Mandip Takhar, Placements Manager at University of the Arts London, London College of Communication, said: "Often, students entering higher education are conditioned to think that the goal is to graduate and find work within a 'company or organization, but this is not always the case and this is why LCC's partnership with UnderPinned is so valuable, because we have the same innovative and entrepreneurial way of thinking.
"The LCC and UnderPinned partnership celebrates the diversity of our students that goes beyond simply identifying their core competencies – it extends to how they can best use these skills to broaden their appeal as independent creatives.
"Working with UnderPinned has allowed us to promote that the opportunity for our students to look for work as a freelancer, both during their studies and after graduation, can increase their appeal to employers in a way that captures their momentum. entrepreneurial and combines it with the ability to practice these skills within a "professional lens".
"Not only do students gain a deeper understanding of their value as freelancers, they are also able to gain tangible experience and present it to future employers as a testament to their unique ability to seek the job that matches their skills.
"UnderPinned's offering has enhanced our approach to addressing how we guide students and graduates into their desired line of work and help them gain a deeper understanding of their value as creative freelancers in their chosen field of expertise."
The freelance platform signs a partnership with London universities
Source link The freelance platform signs a partnership with London universities