United Kingdom
Sophie Ridge on Sunday: Jeremy Hunt says everyone must pay higher taxes – but the rich pay a bigger price | Political News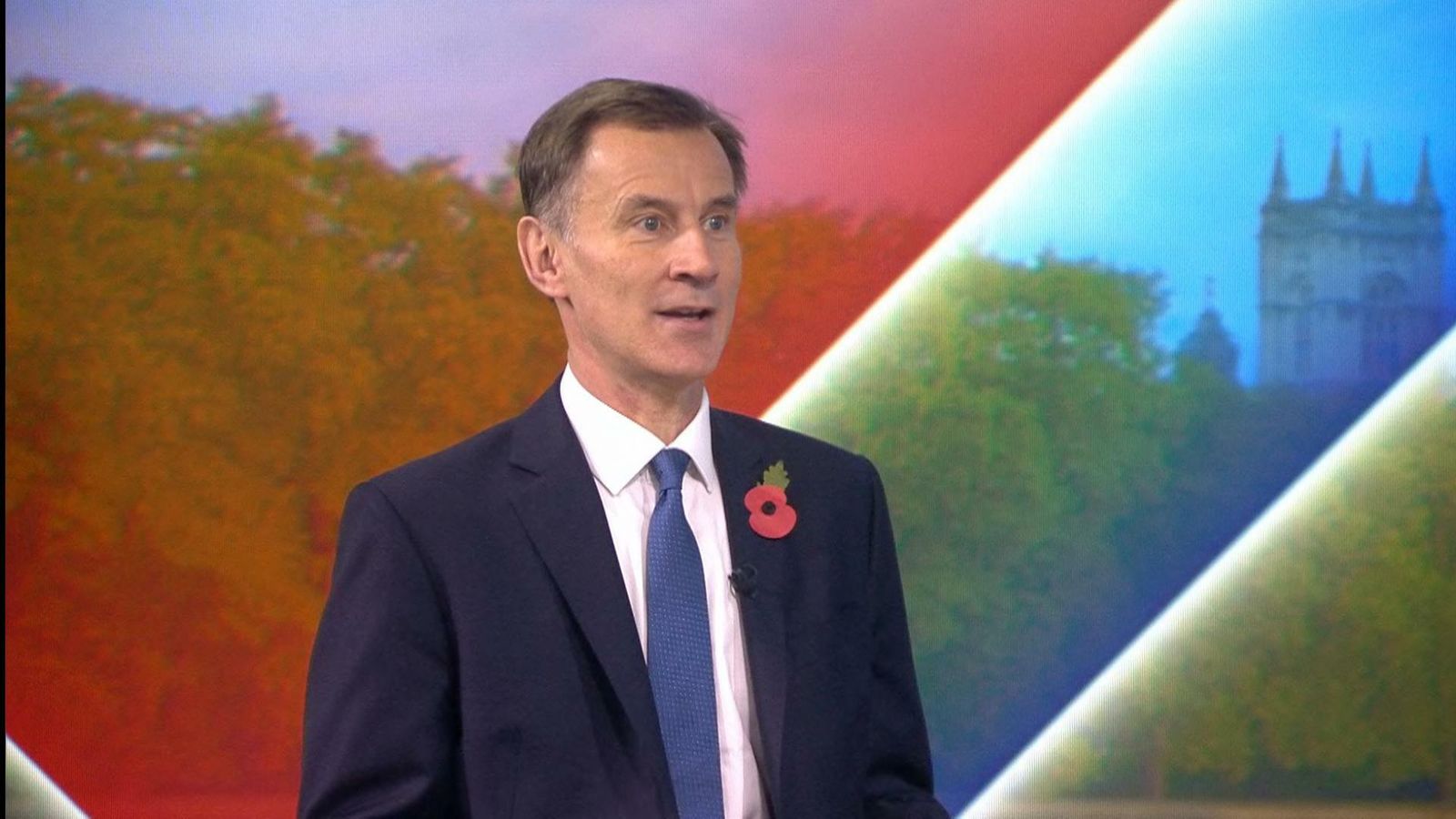 Jeremy Hunt says everyone will end up paying more in taxes, but those who earn the most will have to make the bigger sacrifices.
In a fall statement on Thursday, the prime minister told Sophie Ridge on Sunday's show that he "will ask for sacrifices from all" but will ask those on the lowest incomes to "do what we can ask for". is limited."
"It will be reflected in the decisions I make. It is important because Britain is a decent country, a just country and a caring country.
"Unfortunately, we're all going to end up paying a little more in taxes."
This week, nurses across the UK voted to go on strike for the first time to demand a 17% pay rise. The date is TBD.
Hunt, who was health secretary when junior doctors first went on strike in 2015, said he was "very conscious" of their concerns and said he was "very aware" of their concerns, citing the effects of inflation on their wages. He said he understands they want more growth than inflation. packet.
But he said: "I think we have to recognize the hard truth that if we give everyone inflation-proof pay rises, inflation will continue. We are not going to cut inflation.
"That's why I don't pretend I don't have difficult decisions.
"The way to get through this is to get inflation under control as soon as possible because it's the root cause of your fears, your anger, your frustration, and your paycheck is not going your way."."
Hunt promised the fall statement "isn't just bad news," but said the public realized "if you want to give people confidence in the future, you have to be honest about the present." I believe.
He said his plan would keep inflation in check, curb energy price spikes and "restore healthy growth."
The prime minister said his plan would help Britain emerge from the recession as quickly as possible.
But he also said spending cuts from the government sector would be required, hinting that the NHS would not be given any more money.
He said health services are already being funded more, but they need to "do everything we can to find efficiencies."
https://news.sky.com/story/sophy-ridge-on-sunday-jeremy-hunt-says-everyone-will-have-to-pay-higher-taxes-but-richest-will-make-larger-sacrifices-12746271 Sophie Ridge on Sunday: Jeremy Hunt says everyone must pay higher taxes – but the rich pay a bigger price | Political News