United Kingdom
Second statement on Russia's war against Ukraine and international sports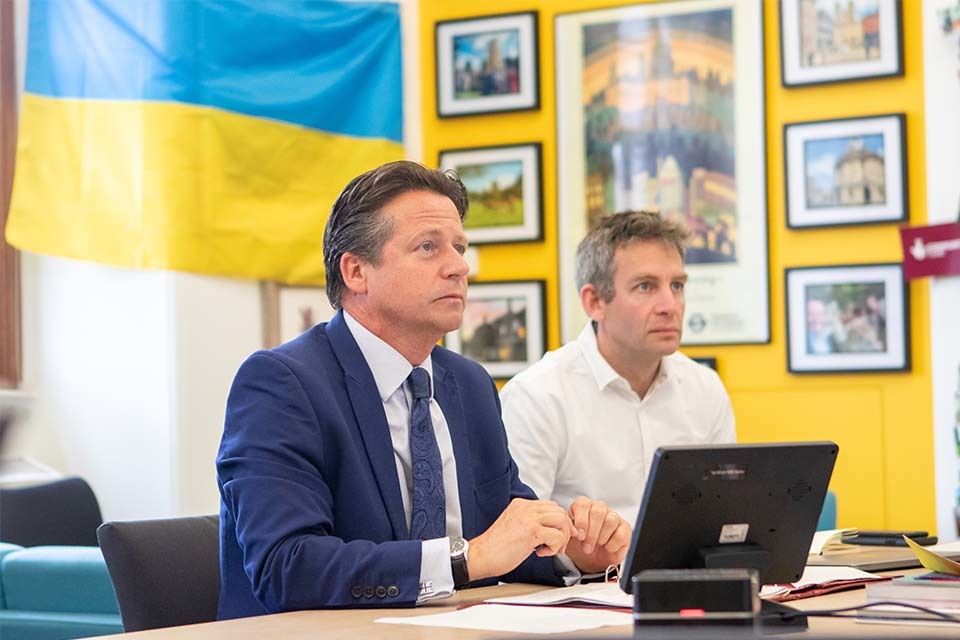 Russia's unprovoked and unjustified war against Ukraine, supported by the government of Belarus, is abhorrent and a flagrant violation of its international obligations. Respect for human rights and peaceful relations between nations form the basis of international sport.
We, as a collective of like-minded nations, reaffirm our statement of March 8 and, while accepting the autonomy of sports organizations, the position of our governments further state that;
In cases where national and international sports organizations and other event organizers choose to allow athletes (including athletes, officials and administrators) from Russia and Belarus to participate in sports events;
We call on all international sports federations to take these principles into account, applaud all those who have already taken action and encourage our domestic sports bodies to engage with their international federations to do so. These restrictions should remain in place until cooperation under a rules-based international order becomes possible again.
Furthermore, we reiterate our encouragement for the international sports community to continue to show its solidarity with the people of Ukraine, including by supporting the continuation and reconstruction of Ukrainian sports where possible.
Australia. The Honorable Annika Wells MP, Minister for Aged Care and Sport
Austria: Vice-Chancellor Werner Kogler, Minister of Arts and Culture, Civil Service and Sport
Belgium. Valerie Glattin, Minister of Higher Education, Adult Education, Scientific Research, University Hospitals, Youth Welfare, Justice, Youth, Sports and the Promotion of the Francophone Community in Brussels. This signature binds the French-speaking community, the Flemish community and the German-speaking community of Belgium.
Canada. The Honorable Pascal St-Onge, Minister of Sport
Croatia. Dr. Nikolina Brniac, Minister of Tourism and Sports
Cyprus: Minister of Education, Culture, Sports and Youth, Prodromos Prodromo
Czech Republic: Philip Neusser, President of the National Sports Agency
Denmark: Ane Halsbo-Jørgensen, Minister of Culture
Estonia: Liina Kersna, Minister of Education and Research acting as Minister of Culture
Finland: Petri Honkonen, Minister of Science and Culture
France: Amelie Odea-Castera, Minister of Sport and Olympic and Paralympic Games
Germany. Mahmut Ozdemir MP, Parliamentary State Secretary of the Federal Ministry of Interior and Community
Greece: Lefteris Avgenakis, Deputy Minister of Sports
Iceland: Ásmundur Einar Daðason, Minister of Education and Children
Ireland. Jack Chambers TD, Minister of State for Sport and the Gaeltacht
Italy: Valentina Vezali, Secretary of State for Sports
Japan: HE SUEMAtsu Shinsuke, Minister of Education, Culture, Sports, Science and Technology
Republic of Korea: PARK Bo Gyoon, Minister of Culture, Sports and Tourism
Latvia: Anita Mujnietse, Minister of Education and Science
Liechtenstein: N.S. Dominic Hasler, Minister for Foreign Affairs, Education and Sport
Lithuania: Dr. Jurgita Šiugždiniene, Minister of Education, Science and Sports
Luxembourg: Georges Engel, Minister of Sports
Malta. Dr. Clifton Grima, Minister of Education, Youth, Sports, Research and Innovation
The Netherlands: Connie Helder, Minister for Long-Term Care and Sports
New Zealand. The Honorable Grant Robertson, Minister for Sport and Recreation
Norway: Annette Trettebergstuen, Minister for Culture and Equality
Poland: Kamil Bortniczuk, Minister of Sports and Tourism
Portugal: Ana Catarina Mendes, Minister of the Prime Minister's Cabinet and Parliamentary Affairs (responsible for youth and sports)
Romania: Carol-Eduard Novak, Minister of Sports
Slovakia: Ivan Husar, State Secretary for Sports
Slovenia. Dr. Igor Papich, Minister of Education, Science and Sports
Spain: Mikel Octavi Icheta y Llorens, Minister of Culture and Sports
Sweden: Anders Ygeman, Minister of Integration and Migration
The United Kingdom. Nadine Dorries MP, Secretary of State for Digital, Culture, Media and Sport
United States of America. Elizabeth Allen, Senior Public Diplomacy and Public Affairs Officer
Second statement on Russia's war against Ukraine and international sports
SourceSecond statement on Russia's war against Ukraine and international sports