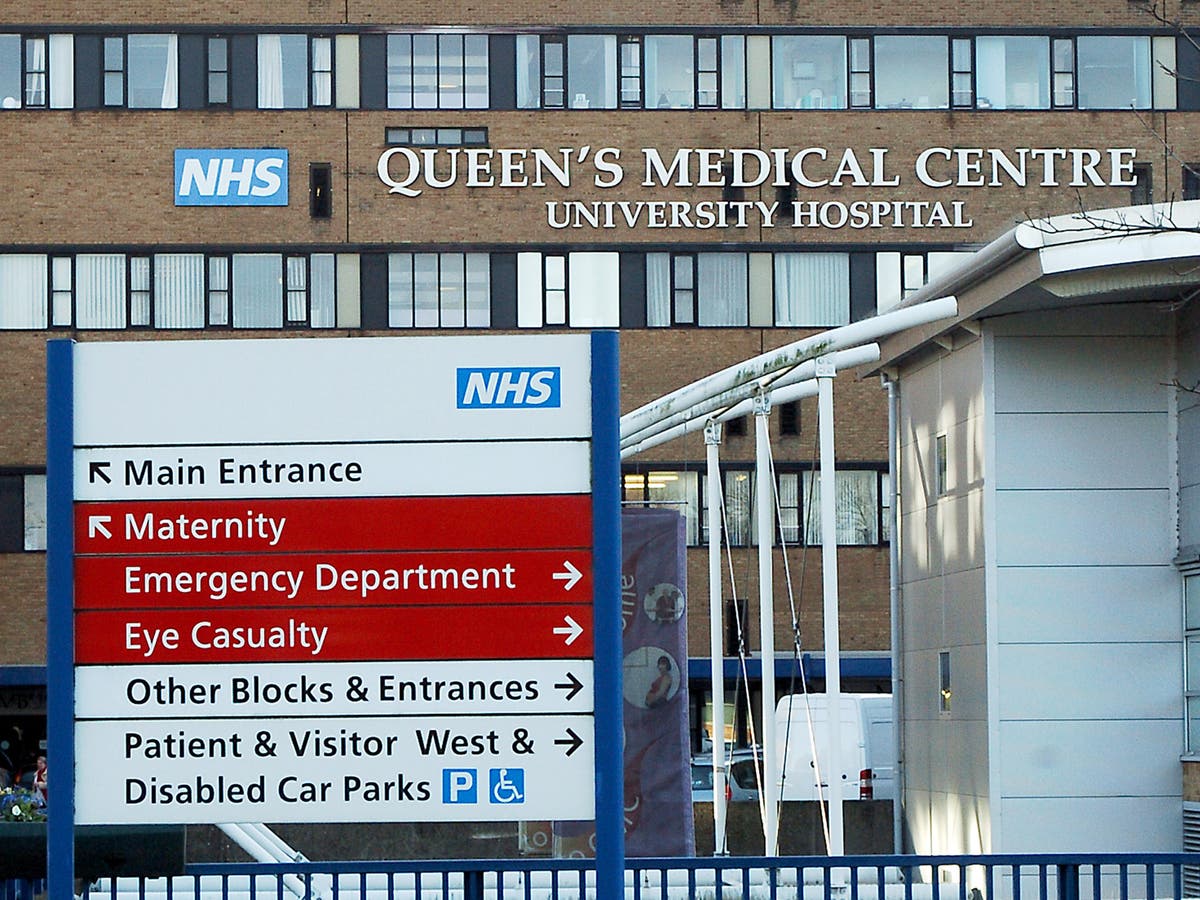 Hospitals facing numerous infant mortality investigations in the ward are still at risk to mothers and babies, according to midwives working in the maternity unit.
Survey by Independent Revealed the scale of Avoidable errors Infants have died or their brains have been damaged at the Nottingham University Hospital (NUH) Trust. Since then, ministers have published an independent review of the case at Trust, one of Britain's largest.
However, the hospital involved (Queen's Medical Center in Nottingham) claims to have made significant changes and is hiring more staff, but midwives say. Independent Due to dangerous levels of staff and lack of beds and equipment, there are not yet sufficient resources to help mothers give birth safely.
One said they were weeping regularly due to hospital conditions that care regulators rated inadequate last December.
"We hit our heads against the brick wall. I went home crying every day and said," What the hell did you do? " I faced financial difficulties for three years and had a career that seemed to be in turmoil every day.
"I think that's anxiety, but is it the day I'll be in front of the coroner's court because my mom and baby died in my care?" They added.
Said one of the midwives working in the community Independent: "They keep saying,'We learned the lesson, it's not right now,' but now it's getting worse. It's worse because we know about it and it's still bad. Women are still at risk of harm. Even more so in the community. "
Hospitals are being asked to investigate suspected failure to care for mothers and babies after dozens of families have expressed concern. Patient Safety Minister Nadine Dorries has agreed to meet with local MPs and family members, and the NHS has agreed to an independent review of cases dating back to 2016.
The Trust faces at least 12 clinical negligence claims by families, and since 2010, 91 million cases, including 46 infants with permanent brain damage, 19 stillbirths and 15 deaths. I paid more than £ pounds in damages and legal costs. Involve mother and baby.
Midwives working in the hospital's obstetrics ward said one of the main problems was the lack of staff and resources.
They said: "You are running around for a thermometer. You are running around for a sphygmomanometer. They share the same resources because there is nothing available. Nothing works.
"There is a postpartum bed bottleneck, so if you can't move people from the labor room to the postpartum ward, you can't hire new workers, so there's no movement. And they come to the labor suite. You can't be guided because you need it, so you're constantly chasing the tail. "
Independent Many newly qualified midwives hired by the trust were later said to have left or became ill. Several staff also claim that due to staffing gaps, they were given high-risk women to take care of them with little support. Independent Earlier, I reported on a case where a high-risk woman was being cared for by a new midwife.
Some say: "I can give a woman and she can die. It's not my fault. It's a lack of support. It's a lack of resources. I feel like I'm going to be shot down because of myself. I'm very scared. I wanted to help and empower women. I wanted to be their advocate, but NUH can't.
"I'm going to leave, but this has tainted my view of midwifery. Will it be the same if I go to another trust?"
I have trust Said before We are fighting to fill a vacancy of 70 midwifery staff. This is a common problem for midwifery units nationwide.
Nottingham Trust also operates regional midwifery services, including childbirth services, but midwives said the services were not operated on a regular basis due to the lack of staff in the trust.
Midwives in one area were given the entire area of ​​Nottingham to cover themselves as newly qualified midwives, sources added. Do it. They are always screaming for midwives on weekends.
"Women are still at risk of harm. Even more so in the community. Hospitals always ask someone or give something to someone. For example, working with 9-5 people on weekends. And given 7-8 women. And I can't physically go around and see them all to take care of what they need. I'm 3-4 hours I'm working on writing extra notes. "
They said the woman was discharged regularly without breastfeeding and was given a bottle to release her bed. "This is always the case," said one worker. "They are just giving them bottles just to get them out."
They added: Hospitals always get headlines. When women are more vulnerable, the care of the poor is always at home because they have no one to complain. "
Independent I've seen emails confirming staff claims that some of the guidelines used in hospitals are inconsistent or inadequate. One email explained that the policy for identifying jaundice in newborns was not suitable for the purpose. And in an email earlier this year, staff were told to introduce A & E for testing to their parents before a second email overturned it and left it to the discretion of the staff's experts.
However, one midwife said, "Our staff is so small that the same person does not go to see the baby." They said this could affect the visual judgment being made.
One worker said Independent On new computer systems, it can take up to 4 minutes to load one page, and you will have to enter 31 pages for a new booking.
In response to this concern, Trust Chief Nurse Michelle Rhodes said:
"Improving maternity services is a top priority, and we've made significant changes, including hiring midwives, obstetrics consultants, and managers as support staff. We've also seen how to respond to incidents and keep up-to-date with the latest equipment. In addition, we provide training to our team. Baby monitoring. We also review our clinical guidelines to ensure that we are in line with best practices.
"I'm sorry that some staff didn't listen. We regularly hold open forums with the new midwife director, senior team, and me to encourage them to actively express their concerns. You can always talk to the leadership team or parents who are "free to speak". "
Nottingham's Childbirth Scandal: Midwives Reveal Fear of Mother and Baby Safety
Source link Nottingham's Childbirth Scandal: Midwives Reveal Fear of Mother and Baby Safety