United Kingdom
News live: pregnant woman rescued from Forbes floods; Australia announces new ambassador for climate change | Australia news
Key events
Here's a fun little tidbit to keep you going this afternoon.
It's World Tsunami Awareness Day today. As if we didn't need more natural disasters to worry about!
Central NSW residents urged to conserve gas amid supply disruptions
Central NSW police have warned residents to conserve gas and turn off appliances amid gas supply disruptions hitting parts of the state.
As parts of Bathurst and the Central West have their gas supply reconnected following a disruption to normal service, customers in the Oberon and Lithgow areas are urged to conserve gas and turn off appliances.

The main supplier of gas to the Bathurst area, Jemena advise that the gas supply in Bathurst has now been returned to the secondary main, which has allowed supply to be returned to Bathurst hospital.
Nursing homes and other vulnerable customers have been prioritised to have supply reconnected.
Jemena crews will continue to perform 'make safe' works across Bathurst today, ahead of restoring gas to homes and businesses. More than half of all premises in Bathurst have been visited by Jemena crews.

For safety reasons, Jemena needs to interrupt the supply of gas to customers in Oberon within the next 24 hours. This will impact all gas customers in Oberon except for Oberon hospital, life support and other customers Jemena has classified as vulnerable.
Queensland's move away from coal an opportunity for new economy jobs, Labor conference hears
Queensland's plan to move away from coal has been framed as an opportunity for new economy jobs as Labor leaders addressed the party faithful in the sunshine state.
The prime minister, Anthony Albanese, and federal treasurer, Jim Chalmers, were in the room as the premier, Annastacia Palaszczuk, flagged thousands of energy jobs in a speech at Labor's state conference on the Sunshine Coast today.
"Today we are launching one of the largest recruitment campaigns to find 2,300 new workers," Palaszczuk said.
"Working across our six publicly owned energy companies, these workers will help put our energy plan into action."
Engineers, labourers and admin workers are among the sought-after workers.
Palaszczuk also flagged plans to manufacture electric buses as well as prefabricated homes for frontline workers in regional Queensland.
But the state opposition wanted her to use the gathering to push for a 50-50 health funding split between the state and commonwealth.
"Today the premier has a chance to demand Queensland's fair share with the prime minister in the audience," the opposition leader, David Crisafulli, said.
"Anything short shows they're throwing in the towel."
Police search for girl after bodies of woman and boy found in Canberra pond
The bodies of a woman and a young boy have been found in a pond in Gungahlin in Canberra's north.
ACT police are investigating after the bodies were found in Yerrabi pond early on Saturday.
Det Supt Hall O'Meagher, who is in charge of ACT policing criminal investigations, said grave concerns were held for another child and a search was under way.
"We have grave concerns for a third person, another young child who we are currently searching for," he said.
"We have a land search under way and also a search in the pond itself to try to locate that third person.
"Obviously a tragic situation, it's still very early days and it's unfolding."
He said ACT police received a call on Saturday morning from a member of the public who had seen a person in the pond. Police attended and found the bodies of the woman and child.
O'Meagher said the investigation was ongoing and the manner and cause of the deaths was not yet known.
"We're making inquiries with the family of these deceased people and they're assisting us with our inquiries at this point in time," he said.
"Our thoughts go out to them and also to the responding police who've had to deal with this tragic circumstance here this morning."
He said counselling had been made available for police and emergency services personnel.
O'Meagher said anyone with information should contact Crime Stoppers on 1800 333 000.
Forbes expects flood peak not seen for 70 years as SES warns drivers
A member from the SES is providing an update from Wagga Wagga.
The prediction for a peak at Forbes is still 10.8 metres some time today, with major flooding. The level has not been experienced for 70 years.
We have seen a number of floods move through the town and they behave differently every time. Fingers crossed we do not reach that, but at the moment that is the information we have.
He says there have been a number of flood rescues, which are expected to continue as people will "unfortunately, continue to drive through flood water".
I am happy that the community has listened to the messaging we have put out at the moment … the roads are deteriorating under these conditions so nobody has seen these conditions before in the area.

Even locals are getting caught out driving through crossings that they think are safe … people get sucked away when they hit a deep pothole, they get taken away. We urge people to stay away from flood water. It is extremely dangerous at the moment, it is full of debris.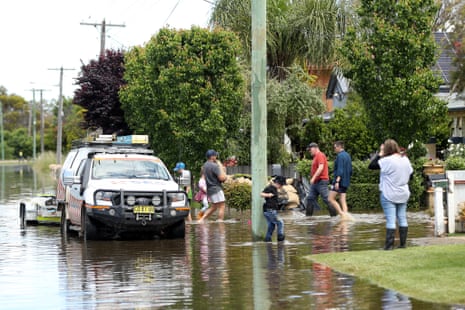 Michael McCormack expects 'level of frustration' over latest floods
The federal MP for Riverina, Michael McCormack, is speaking now in his electorate at Wagga Wagga in the wake of major flooding.
He says he expects there's a "level of frustration" in the community as so many have had to sandbag and evacuate their homes. There are 1,000 people in Wagga Wagga under evacuation orders.
McCormack says:
That is a time of frustration, a time when community band together like never before and in the worst of times to see the best of Australians, and we see that in the Riverina and elsewhere as people come from all over the nation to help out where they can.

As well as that I get the businesses have had to close and I understand full well that farmers have lost crops and that will take a heavy toll on the bottom line. Many farmers expected a bumper harvest this year but that has been destroyed by the flood waters and that is so unfortunate. But you are not alone and there will be help available.
'Heroes of the pandemic': PM welcomes pay rise for aged care workers
The prime minister, Anthony Albanese, has been speaking on the Sunshine Coast, welcoming the Fair Work Commission's decision to award a pay rise to aged care workers.
We know that we have an aged care royal commission … titled with one word, neglect. It documented over half of aged care residents not getting the nutrition that they need. It documented a crisis in the aged care workforce and it basically said unless we do something about lifting up the wages of people in the aged care sector then we won't have a workforce to look after.
Albanese said yesterday's announcement was an interim decision but was "very welcome".
This 15% increase will impact some 300,000 workers in the aged care sector. These are the heroes of the pandemic, they deserve more than just our thanks, they deserve a wage rise … the idea that aged care workers can work the physically demanding work that it is but also very emotionally demanding as well … it's an important decision, it's just a couple more stages to go but it's a sign that the Fair Work Commission understands how important it is.

It's also about closing the gender pay gap – 85% of these workers are female in the sector and we need to recognise that … many of the feminised industries, aged care, early learning, disability care are dominated by women, where women don't have the same bargaining power as other sections of the workforce, and that is one of the explanations for why wages have been held back.
Bid to host UN climate talks is a chance to revive Australia's reputation, WWF says
The World Wide Fund for Nature says Australia's bid to host the Cop31 climate talks is a chance to revive the nation's global reputation.
The WWF-Australia CEO, Dermot O'Gorman, describes it as an "Olympic moment", while calling on the federal government to rethink its position towards new coal and gas.
O'Gorman says:
It will benefit all of Australia and our Pacific neighbours.

Winning this bid won't be easy, but if we're successful it will help catalyse climate action in Australia and revive our global reputation. This is the kind of leadership we need to show to be competitive in a net zero world.
O'Gorman says Australia needs to become a "global leader" on climate action if it is serious about hosting a UN climate conference with the Pacific, meaning reconsidering new coal and gas projects.
We need to exit from fossil fuels on a set timeline and deliver on climate finance to support our Pacific neighbours, who have contributed the least to the climate emergency yet are experiencing the brunt of its impacts.
Victorian Liberals announce $200 Keeping Kids Moving vouchers
Meanwhile, in the Victorian Liberal party's camp, Matthew Guy has announced a program to provide $200 vouchers for school-enrolled children to participate in sport, dance, scouts or other active recreation.
The Keeping Kids Moving program would run for up to 500,000 children over the next two years, providing vouchers to join a sporting club, take lessons, for seasonal registration fees, or be part of other active recreation groups by approved providers.
Guy says:
Our Keeping Kids Moving program is a real solution in lowering the cost of sport for all Victorian children and making an active, healthy lifestyle more accessible for families.
Andrews is asked if he could explain why he doesn't want to comment on allegations in the Age report beyond his statement.
He replies:
No, what I can do is simply refer you to the statement that I've made.
Is there a legal reason?
There's a statement that's been made and I'm referring you to it, I'm again making it very clear I behave appropriately at all times … always have and I always will, and the statement makes it very clear, as it should … I am faithful to that oath all day, every single day.
Andrews is asked if Labor will consider Ibac's call to create a new offence for people who publish information in its draft reports.
He says:
I certainly wouldn't rule out changes to the law at some point but I'm not here to make any announcements.
Andrews says there'll be "many issues in the campaign" and what issues people are concerned about is a "matter for voters".
We've put a positive and optimistic campaign out there … we'll have many more announcements to make, each day laying out our positive and optimistic plan for the future … to keep doing what matters.

All elections are always close, a handful of votes in a handful of seats determines whether we have a government that cuts and privatises the things that matter or a Labor government that continues to invest in the things that matter. They're the choices … what you guys in the media focus on, what ordinary Victorians focus on … is a matter for them.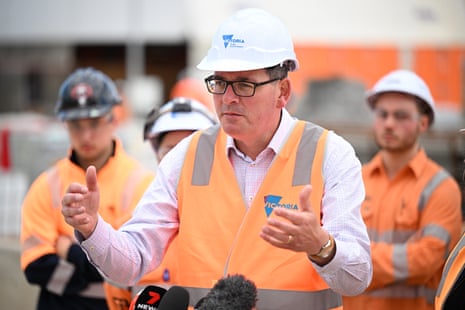 Daniel Andrews asked about secret anti-corruption probe allegation
Daniel Andrews has been asked about allegations in the Age yesterday which claimed he was being investigated in a secret anti-corruption commission probe over the awarding of two $3.4m grants.
He says he's issued a statement today, so has the agency, and refers the media to that.
I've issued a statement … if you want to know what Ibac is doing you should speak to Ibac, I behave appropriately at all times.

Ibac has also released a statement, I urge you to refer to that also … I'll let that speak for itself.
On the media and whether he has been angered by reports, he says he's got a "position on freedom of press, more voices not less".
Go and ask people in regional newspapers how much support they've got from our government … my position on those matters is very clear.
Daniel Andrews pledges $4m for new mental health program for tradies
Victoria's premier, Daniel Andrews, is speaking now, with the high-vis and the hard hat out.
He has pledged $4m to establish a new mental health program for tradies.


https://www.theguardian.com/australia-news/live/2022/nov/05/australia-news-live-flood-forbes-nsw-lachlan-river-70-year-peak-victoria-murray-river-energy-anthony-albanese-politics-weather News live: pregnant woman rescued from Forbes floods; Australia announces new ambassador for climate change | Australia news