Sports
New Zealand frustrates England to take control of 2nd Test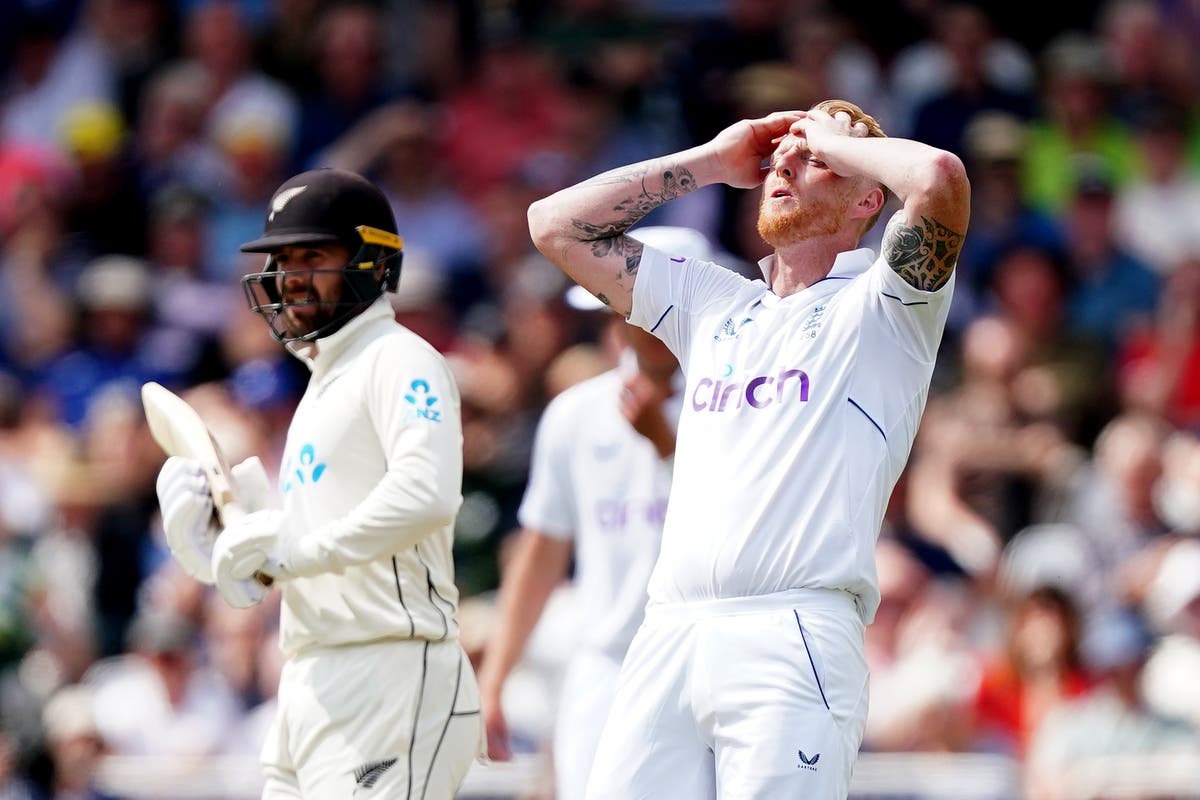 England hit a bump in the road on the first day of the second test against New Zealandwith a determined stick and abandoned catches leaving tourists in the driver's seat at Trent Bridge.
A New Zealand team had its captain stolen Kane Williamsonwho tested positive for Covid-19 late the day before the game, was sent by Ben Stokes and responded by racking up a formidable 318 for four.
First Test centurion Daryl Mitchell was the pick of the pack again with 81 steps out, sharing his second major partnership with Tom Blundell (67 steps out) as the pair piled on an unbroken 149 per stump.
But England must also look at itself. Despite two wickets apiece for Stokes and James Anderson, bowling looked sluggish in the morning and tired in the evening, with 43 limits and two sixes highlighting their persistent lack of precision – but the pitch also failed.
England's capture had been near perfect at Lord's, but here four chances presented themselves in the cordon. Zak Crawley was the culprit twice, diving in the first slip to take down Henry Nicholls and later making the reverse mistake as he and Jonny Bairstow left a Blundell advantage for each other.
Joe Root was responsible for the costliest mistake, bombarding Mitchell when he had just three points, and also got his hands on another extremely difficult chance.
With a tint of green on the pitch and a few gray clouds gathering the two teams had planned to go bowling first, but there was no real terror in the air as the new ball refused to swing.
Anderson dealt with the lack of movement in a reliable and steady initial flurry, but Stuart Broad couldn't find rhythm on his pitch and Matthew Potts was unable to recreate the impact of his first appearance on the counter.
Tom Latham and Will Young gratefully crossed the line, 15 of them in the first 21 overs, with a surplus of half-volleys and England's commitment to attacking the pitch helping them.
After a slightly ragged first inning, Stokes was able to stem the growing momentum by catching Young behind for 47 – an angled delivery slicing off the shoulder of the bat and carrying Crawley low in the slides.
The end of the 84-point stand should have been the signal for substitute skipper Latham to dig in, but instead he went after the very next ball, dug in short by Anderson and fired towards the dipping Potts at half-wicket. After 90 minutes one-way, balance was quickly restored.
Williamson's unexpected absence deprived New Zealand of their most reliable number three, but Devon Conway has proven more than capable in the past. He led the Nicholls back into another 77-valued positive position as they continued to milk average bowling.
Broad attempted to return to his role as bandleader, a tactic that worked wonderfully at Lord's but didn't yield the same results here. His call for more noise saw the volume level temporarily increase, but the closer he came to cash in saw Crawley put a chance after rushing a take he should have left for Root.
Things continued to go against the hosts, with Conway standing firm after whipping Anderson low against Potts at half wicket for a contested hold that worked in the batter's favor. England were in desperate need of help and when the aging ball finally started swinging, they got it.
When Stokes managed one to train away from Nicholls (30), he could do nothing but pass it to Ben Foakes, while Conway was beaten through the air by Anderson and caught by the inner edge.
Had that double strike turned into a triple, it could have been a transformative moment, but when Stokes got a gash from newcomer Mitchell, the opportunity slipped through Root's fingers. Mitchell, made sure it would be expensive.
Both teams were in contention at 195 for four at tea, but England's stock quickly slipped again. When Blundell edged the tiresome Potts to the third slide, there was no receiver in place, with Stokes closing the gap late once the moment passed.
Mitchell fired a few risky shots, chipping the infield a few times early on, but looked increasingly confident. He beat Jack Leach for four and six on the floor, skillfully reversed the spinner and picked another high when he spun into a Broad bouncer.
He reached 50 on 91 balls, Blundell following him for half a century with a usually low-key supporting effort. Root got his hands on the ball as Blundell clipped Leach with the back foot, half a chance at best, but there was another error in prospect.
With the second new ball in hand, Broad had Blundell hit a right on 63, only for Crawley and Bairstow to watch the odds sail between them.
New Zealand frustrates England to take control of 2nd Test
Source link New Zealand frustrates England to take control of 2nd Test