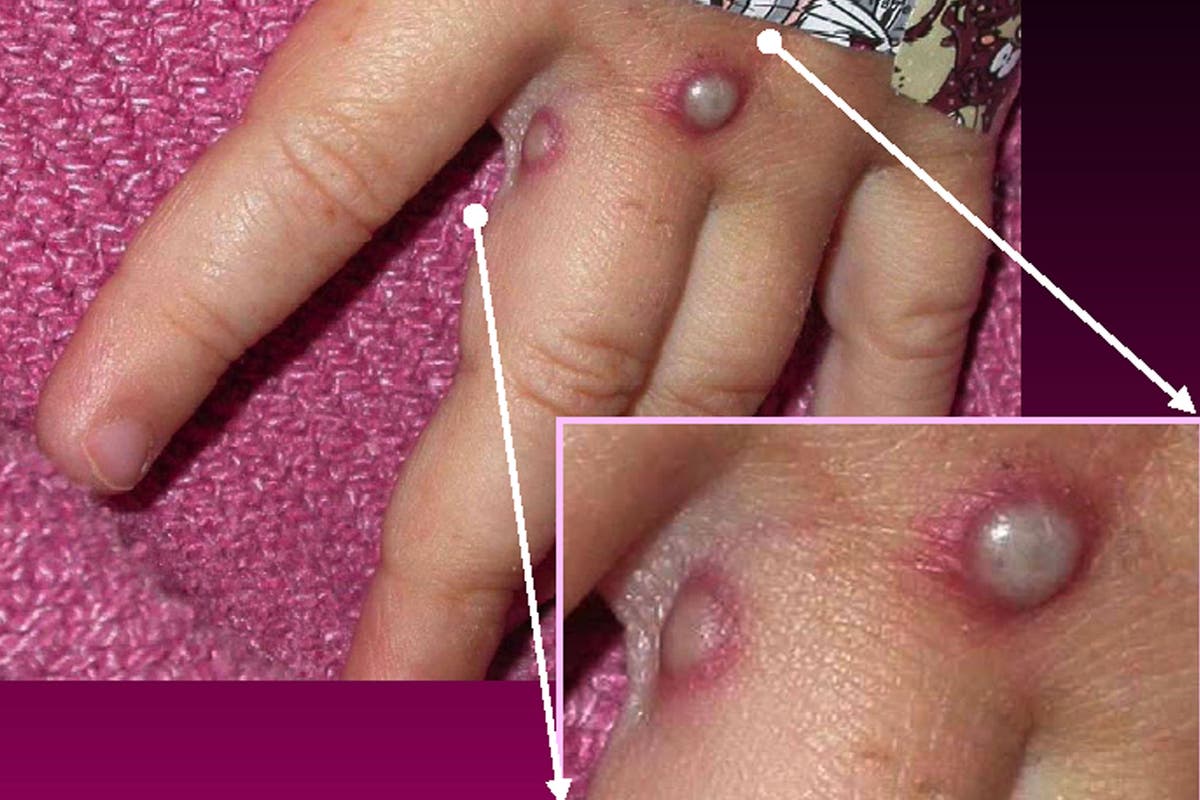 Four additional cases of monkeypox have been detected in the UK, bringing the nationwide total to seven, health officials have announced.
The UK Health Security Agency said the new cases, identified in London and North East of England, do not have known connections with the previous three infections, as it warned there was evidence of community transmission of the disease.
Urgent investigations are underway to establish links between the latest four cases, who are gay or bisexual and appear to have been infected in London, UKHSA said.
A number of the patients are receiving medical care at specialist infectious disease units at the Royal Victoria Infirmary, in Newcastle upon Tyne, and the Royal Free Hospital and Guys' and St Thomas', in London.
None of the new cases have travelled to a country where monkeypox, a virus which kills up to 10 per cent of people it infects, is endemic, UKHSA said.
Seven cases have now been identified between 6 and 15 May, the first of whom had recently returned from Nigeria, which is where they are believed to have contracted the infection.
"This is rare and unusual," said Dr Susan Hopkins, chief medical adviser at UKHSA. "The evidence suggests that there may be transmission of the monkeypox virus in the community, spread by close contact.
"We are particularly urging men who are gay and bisexual to be aware of any unusual rashes or lesions and to contact a sexual health service without delay."
Due to the sudden rise in cases, and uncertainties around where some of the individuals contracted the virus, health officials from UKHSA are working with the NHS to identify if any infections have been missed in recent weeks.
International health agencies are also being contacted to see if a similar increase in cases has been recorded in other countries.
As a mild, self-limiting disease which does not easily spread between people, the risk posed to the general UK population is low, the UKHSA said.
People without symptoms are not considered infectious but those who have been in close proximity to the affected individuals are being contacted to ensure that, if they do become unwell, they can be treated quickly, the agency added. Contacts of two of the four new cases have so far been identified by UKHSA.
The seven people diagnosed with monkeypox in the UK have been infected with the West African variant of the virus, which is mild compared to the Central African strain, health officials said on Monday.

UK news in pictures
Show all 50
Initial symptoms of monkeypox include fever, headache, muscle aches, backache, swollen lymph nodes, chills and exhaustion. A rash can develop, often beginning on the face, before spreading to other parts of the body, particularly the hands and feet.
UKHSA said that clinicians should be alert to individuals presenting with rashes without a clear alternative diagnosis and should contact specialist services for advice.
Monkeypox can be spread from an animal bite or scratch, body fluids, contaminated objects, or close contact with an infected person. Infection is usually associated with travel to West Africa, where it is believed to circulate among certain types of rodents.
There is no cure for the virus. Symptoms typically start to appear between five and 21 days after exposure, while most people recover from the illness within a matter of weeks.
The UK reported its first cases of monkeypox in 2018, when three people contracted the virus after a man travelled back from Nigeria.
The virus first emerged in a human in the Democratic Republic of the Congo in 1970 and has since been detected in 11 central and western African countries.
More cases of monkeypox detected in UK as scientists investigate links Source link More cases of monkeypox detected in UK as scientists investigate links