United Kingdom
Liz Truss backs up public sector pay plan after Conservative backlash | Political news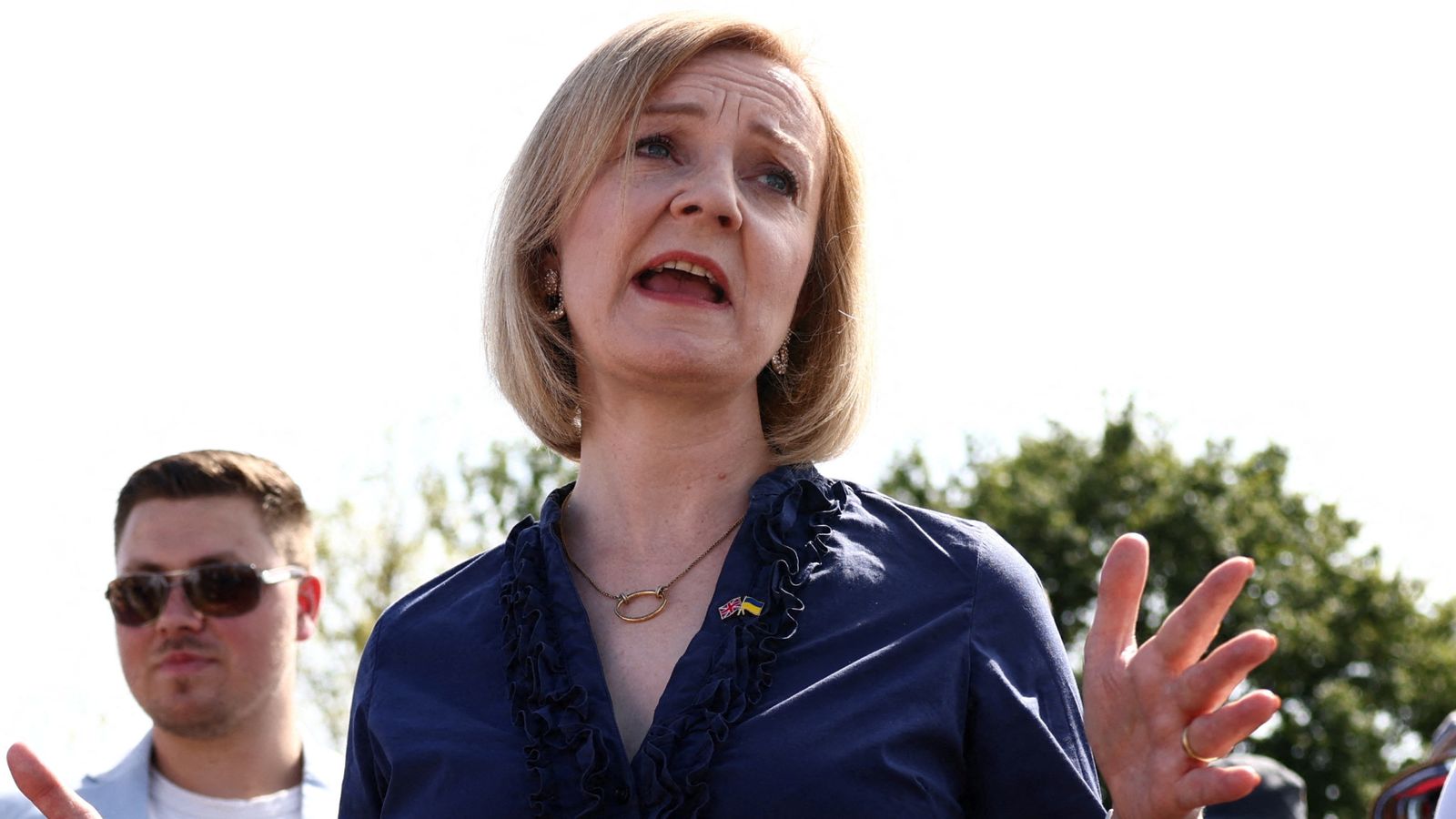 Liz Truss has reversed her latest leadership policy to "wage war on Whitehall waste" after a Tory backlash over its impact on public sector pay.
The Foreign Secretary said on Monday night that he would save £8.8 billion by introducing regional pay boards instead of national ones to set civil servants' salaries to reflect where they live.
But it would mean paying public servants in poorer parts of the country less than their counterparts in wealthier areas such as the South East and London.
And experts warned that to reach the money, the plan would have to go further than government departments, where teachers, nurses and police also face lower wages than workers in the south.
Political center. Sunak's allies attacked Truss's public sector pay plan
The policy has sparked outrage among a number of conservatives, with many supporters of his leadership rival Rishi Sunak taking to social media to call it "scratchers" and "savings on steroids".
Ben Houchen, the influential Tory mayor of Tees Valley, also told reporters the policy would be "a sure way to lose the next general election".
But before lunchtime on Tuesday, Ms Truss' team issued a statement insisting that "current levels of public sector pay will absolutely remain", adding: in regional pay boards of civil servants or public sector employees".
A Team Sunak source points to comparisons between Mrs Truss and former Prime Minister Margaret Thatcher, inverting her famous phrase for today's events: "The lady is for turning."
Former health secretary Matt Hancock said Ms Truss' announcement, which only said "current" pay would be protected, was "not good enough".
"Civil servants outside London will also be paid #LessUnderLiz in future," he tweeted. "We need to support public servants, including civil servants who work hard for all of us."
Team Truss also claimed there had been a "deliberate misrepresentation" of policy, but former Tory whip Mark Harper said they should "stop blaming journalists" for providing details in his own press release.
"Alignment"
Ms Truss's initial statement said the regional pay councils would "facilitate the adjustment of civil servants' pay, ensuring it accurately reflects where they work" and "stop the hoarding of local businesses that cannot compete with public sector pay".
He said there was "too much bureaucracy and outmoded groupthink" in Whitehall and that if he won the race for No 10 he would lead a government "which is relentlessly focused on what's on offer for the British public and delivering value to hard-working taxpayers". .
One of his backers, Brexit Opportunities Minister Jacob Rees-Mogg, also praised the plans during an appearance on Sky News on Tuesday morning.
But criticism came hard and fast, with PCS union general secretary Mark Serwotka saying Ms Truss would "face opposition at every turn" and Prospect union general secretary Mike Clancy calling it "a hollow attempt to garner friendly headlines for his chosen one".
Sunak groups supporting Tory MPs criticized the plan, including Richard Holden, who said the policy would "kill rate rises", and Simon Hoare, chairman of the Northern Ireland Select Committee, who said it was a "totally bad initiative" to deliver. in "leveling".
After the reversal, Labour's shadow chancellor Rachel Reeves said the "latest mess" of the Tory leadership campaign "revealed exactly what Liz Truss thinks about public sector workers across Britain".
He said the episode "revealed that his priority will be to cut workers' pay packets", adding: "It will suck money out of local economies and send it back to our communities."
Liberal Democrat leader Sir Ed Davey said: "To launch a multi-billion pound policy even five weeks before taking office must be a new record.
"We cannot allow Liz Truss to lead the country with the same incompetence with which she is running her leadership campaign."
Ms Truss appears to be sticking to her Whitehall waste plan, which will cut a further £2.2 billion in spending; Outside of London.
Liz Truss backs up public sector pay plan after Conservative backlash | Political news
Source Liz Truss backs up public sector pay plan after Conservative backlash | Political news