United Kingdom
Jeremy Hunt says 'mistakes' made and taxes set to rise as Liz Truss clings to power – UK politics live | Politics
Jeremy Hunt's key points from this morning…
On his first full day as chancellor, Jeremy Hunt has done a series of interviews in which he made several points, he:
Refused to commit to increasing benefits in line with inflation, but claimed he is "very sensitive" to the needs of the poorest.

Claimed Liz Truss has "listened" to people about the crisis caused by the mini-budget. She will be judged at the next election by what she does over the next 18 months.

Said all government departments, including health and defence, will face spending cuts. There were "difficult decisions" to come.

Pledged that money that would have been received from the health and social care levy will be protected.

Said some taxes will rise, and others will not come down "as much as people hoped".

Claimed the Conservatives are united "around the most important issues", including growth and Brexit.

Said he will meet with Treasury officials later today and with Truss tomorrow.

Stated it was a "mistake" to cut taxes for the wealthiest and to "fly blind" without the confidence of the Office of Budget Responsibility.

Declined to give any specific commitments about his fiscal statement on 31 October.
Key events
31 October fiscal plan will effectively be fully-fledged budget, admits Hunt
The new Chancellor has admitted that his medium-term fiscal plan to be unveiled on 31 October will in effect be a full budget.
Jeremy Hunt told ITV's Robert Peston on Saturday that he would "pretty much" be delivering a "proper" budget.
"We're going to be talking about tax," he said. "We're going to be talking about spending, we're going to be talking about medium and long-term plans."
This morning, in a series of interviews, he refused to be drawn on specifics but said all departments, including health and defence, would be subject to spending cuts and refused to commit to raising benefits in line with inflation (more from earlier here).
Anas Sarwar, the Scottish Labour leader, has said his party is ready for a general election, claiming Liz Truss a "lame duck".
He told BBC Scotland's Good Morning Scotland that the party is "not afraid" of an election and that Truss's government is at "the end of the road".
He said:
She's prime minister just in name. Keir Starmer is absolutely right to demand a general election. He's also right to highlight that we don't want just this government to lose, we want to deserve to win.
David Davis claims that no Conservative really wants another leadership contest, which he said will "make the party look stupid".
The former Brexit secretary said many of his colleagues are "sitting in a shocked sense of terror on the prospects of being re-elected".
He told GB News:
The shock effect of that budget two weeks ago has rattled around the world really. It has rattled around the financial markets, both international currency markets and markets which have an impact on pensions. It rattled around politics and a lot of our colleagues are sitting in a shocked sense of terror on the prospects of getting re-elected.

So, yesterday, frankly, it scorched the flow, in a sense, but it's still a grim prospect for the Conservative party and the government. That being said, I think the removal of Kwasi Kwarteng was inevitable.

He was very responsible for the loss of credibility two weeks ago, that's what happened, it wasn't the numbers in the market, it was the credibility of the program in the markets, and so I suspect she had no choice but to replace him.
Jeremy Hunt, he said, has so far today "shown to be very self-assured, and he's clearly creating space for action by talking about cancelling the various cuts and talking about bringing spending under control. He's certainly got off to a good start."
The thing that is on her [Truss's] side is that nobody really wants another leadership contest. It will make the party look stupid and it will be uncomfortable, and painful even. I don't see the prospect of a so-called unity candidate being probable.
How Brexit nearly scuppered the festival of Brexit. Ben Quinn reports:
For some, the whole project was supposed to be a celebration of Britain's departure from the EU. Which means there is more than a little irony in the fact a main concern of the "festival of Brexit" organisers was the impact of leaving itself.
Disruption to the supply of workers and materials, as well as increased costs, emerged as one of the risks overshadowing the project, according to records.
The £120m festival was controversial from the moment it was first announced by Theresa May in 2018, but this week was in the firing line once again after the spending watchdog said it is investigating – after a series of rebrandings – Unboxed: Creativity in the UK amid concern visitor numbers were less than 1% of early targets.
Though the festival failed to win over many who voted remain in 2016, some in the arts sector are suspicious the latest attacks have been led by Tory politicians, with some already on record as being unhappy at an apparent drift from the original idea of a post-Brexit festival that would showcase "the best of British creativity".
Days after Julian Knight, the Tory chair of the Commons culture committee, said the project had been a "catastrophic failure", its organisers remained guarded while there was no sign of its chief creative officer, the arts impresario Martin Green.
SNP Westminster leader says government a 'shambles', calls for general election
Ian Blackford said a succession of Conservative leaders have "collectively got us into this mess" and claimed the government is a "shambles".
Speaking on the BBC's Good Morning Scotland, the Scottish National party's Westminster leader joined growing calls for a general election after chancellor Kwasi Kwarteng's departure yesterday.
We've really seen the credibility for financial competence, for financial management, of this government really put to bed.
Over the last few years, we've gone from [David] Cameron, we've had Theresa May, we've had Boris Johnson, we've now had the shambles of Liz Truss.

None of these prime ministers have acted in the interests of the people of Scotland and collectively they have got us into this mess. It's not another Tory prime minister that we need. We need away from Westminster, we need independence.
He added:
We want the ability to remove this Tory government. But of course, we've had a whole series of shambolic Tory governments over the course of the last few years.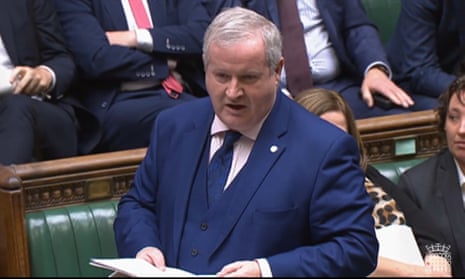 Boris Johnson has paid tribute to the late David Amess and his family.
The former prime minister tweeted:
Keir Starmer has called for the fiscal statement to be brought forward but warned: "You can't reverse out of a car crash."
He said changing chancellor will not "undo the damage has already been done" and will be "very hard to reverse".
"But more than that, after 12 years of Tory failure we actually need a change of government. Tinkering with the people at the top of the Tory party is not the change that we need at the moment," he told PA Media.
"Sometimes this is the consequence of some awful world event, but this is self-inflicted, made in Downing Street, and everybody knows it."
The Labour leader said he was worried about inheriting the current government's finances, warning that people with mortgages without fixed terms will have to pay £200-300 more a month as a result of the mini-budget.
He also accused the Conservatives of failing on knife crime and teenage violence, calling for more community policing.
"That's what we're committed to as a Labour party, because I know the importance of community policing and the difference it makes, not just to knife crime but to many, many other sorts of crimes," he said.
Diplomatic editor Patrick Wintour has written a piece looking at how the ex-foreign secretary once seen as yesterday's man is now in best position to influence prime minister.
Hunt, a 55-year old, Japanese-speaking Oxford graduate, has previously served as health secretary and foreign secretary after first being elected to parliament at the 2005 general election.
In his first major role in government, from 2005 to 2007, he was the shadow minister for disabled people as a reward for supporting David Cameron – who attended Oxford University at the same time as him.
He has twice unsuccessfully tried to become the party leader. On his first attempt in 2019, he came closest, finishing second in the leadership race with Boris Johnson going on to win.
In the leadership race this year, he put his weight behind former chancellor Rishi Sunak over Liz Truss.
Key quotes from Sir Keir Starmer's speech to Labour activists at an event in Barnsley this morning, after urging a general election:
"No doubt we will hear plenty of laughable excuses in the coming days. After 12 years of stagnation, that's all [Truss's] party has left, but even they know she can't fix the mess she has created.
"And deep down, her MPs know something else: they no longer have a mandate from the British people."
Starmer added: "There are no historical precedents for what they have done to our economy" and accused Truss of "tanking the British economy".
Starmer called on Hunt to bring the government's medium-term fiscal plan forward from 31 October, saying: "The crisis we're facing at the moment is a crisis made in Downing Street and the damage has already been done and is very, very hard to reverse – you can't reverse out of a car crash."
"After 12 years of Tory failure we actually need a change of government. Tinkering with the people at the top of the Tory party is not the change that we need at the moment."
Some more detail about the Miriam Margolyes on-air swearing incident currently causing a stir:
More from Keir Starmer's Barnsley speech (see also 10.36am) this morning to Labour's Yorkshire and the Humber regional conference:
This region is also important to this Labour party and our shared journey, from the pain of defeat four times, to a moment where the prospect of serving our country again no longer looks impossible. Because it's in Yorkshire and Humber where we took our biggest steps. In Batley and Spen, where we beat back the forces of division with Kim Leadbeater. Fantastic. In local elections where we've made important gains, taking control of Kirklees. Wins for Oliver Coppard and Tracy Brabin – two shining examples of what Labour can do in power. And as Rachel mentioned in June, with Simon Lightwood in Wakefield, our first byelection gain for a decade.

We have more to do of course. The road to a fairer, greener Britain runs right through this region. Fourteen battleground seats, 14 – and we must win them all. We need Luke Charters as the Labour MP for York Outer, Anna Dixon winning in Shipley, Marie Tidball here in Penistone and Stockbridge. We need them in as Labour MPs at the next election.

When I became leader, I knew we had a huge task ahead. We had to change our party and prepare for power all in one go. Not change for change's sake. Change with a purpose, to make our Labour party fit to serve our country. That's why we had to rip antisemitism out by its roots, why we had to show our support for Nato is non-negotiable, show we want business to thrive and prosper, shed unworkable policies. Country first, party second.

There's always more work to do – I know that. I know how hard it's been for people on the receiving end from those who can't face up to the change we need. But always remember that together we have changed our party. The British people are looking at us again and we can return their gaze with confidence.

Britain is crying out for clear leadership – Labour must provide it. We must turn our collar up and face the storm. Stand with working people. Meet their ambitions for real change. And build a new Britain, together. A Britain that is fairer, greener, more dynamic. Where we grow the economy and raise living standards for everyone, not just a privileged few, tackle climate change by creating new jobs, new industries, new opportunities, redesign our public services to unleash opportunity and provide security, restore faith in politics as a force for good, get Britain's hope, its confidence and its future back.

But it won't be easy. I would love to stand here and say Labour will fix everything. But the damage they've done to our finances and public services means things are going to be really tough. We can't take irresponsible risks with the country's finances. We must be the party of sound money. You can't build a fairer, greener Britain without first restoring economic stability.

Every policy we announce will be fully costed. A new Office for Value for Money will make sure public spending targets the national interest. And we should be clear about what this means. It means not being able to do things – good Labour things – as quickly as we might like.

As a great Labour leader once said: "You can't play politics with people's jobs, with people's services or with their homes." As clear a warning against the dangers of "rigid dogma" and "impossible promises" as you will ever see…

You might recognise it – I certainly do. But not just in that great footage of Neil. No. I see that attitude – the very same thing he was fighting against – in the behaviour of the Tories these past few weeks… And now we see the result. The "grotesque chaos" of a Tory prime minister handing out redundancy notices to her own chancellor! And conference, there are no historical precedents for what they've done to our economy.
Britain has faced financial crises before. But the prime ministers and chancellors who wrestled with them all acted fast. When their policies ran against the rocks of reality, they took decisive action. But this lot, they didn't just tank the British economy. They also clung on. Clung on as they made the pound sink, clung on as they took our pensions to the brink of collapse, clung on as they pushed the mortgages and bills of the British people through the roof.

They did all of this. All of the pain our country faces now is down to them. And there's still one person clinging on. The prime minister. No doubt we will hear plenty of laughable excuses in the coming days. After twelve years of stagnation, that's all her party has left. But even they know she can't fix the mess she's created. And deep-down, her MPs know something else. They no longer have a mandate from the British people.

To end this national emergency once and for all, we also need a long-term plan, a plan that will deliver cheaper bills for working people – now and in the future growth and jobs in every part of our country and real independence from tyrants like Putin, who weaponise fossil fuels and threaten our security.

This is the central mission of the next Labour government. We will turn Britain into a green growth superpower. And driving us forward will be a goal that puts us ahead of any major economy in the world: 100% clean power by 2030. A goal that means investment in wind, solar, nuclear, hydrogen, green steel and carbon capture. Training for plumbers, electricians, engineers, software designers, technicians, builders. A national sovereign wealth fund that generates growth and private investment. Insulation for 19 million homes. And Great British Energy. A publicly owned company that takes advantage of the opportunities in clean British power and turns them into good, secure, high-paid British jobs.
The argument for our plan is simple. Clean energy is already cheaper than fossil fuels – nine times cheaper. Working people need more of it. Britain needs to own it. And the jobs and growth it creates must be shared with every community. British power to the British people.
This is why I've always said we will fight the Tories on economic growth. It's not just their record – the worst decade for growth in two centuries. The "vicious cycle of stagnation" as the former chancellor calls it. It's that we have a clear and practical plan to spread the opportunities of the future to every community in Britain. That's why we struggle for growth – we lock too many communities out of the wealth we create, create too many jobs that are low paid and insecure. And our public services aren't strong enough to help working people succeed.

The Tory trickle-down fantasy has no answer to this. Working people won't be better off because we make the rich richer. It's fantasy economics – if you leave this many people behind a nation cannot grow fairly.
Don't forget it, never again can we let the Tories claim to be a party of aspiration. Labour is the only party that can get home ownership rising again. And we will do it with a new set of political choices, a Labour set of political choices.

We will set a new target – 70% home ownership. And we will meet it our way. No more buy-to-let landlords or second homeowners getting in first … Distorting the market in places like the Yorkshire Dales. We will back working people's aspiration, help real first-time buyers onto the ladder with a new mortgage guarantee scheme, reform planning so speculators can't stop us getting shovels in the ground. My message is this. If you're grafting every hour to buy your own home: Labour is on your side. Labour is the party of home ownership and aspiration in Britain today.

But conference, let's not kid ourselves. The next two years will be tough. The Tories will never give up on power – that's not who they are. And because of their record, because of the state of Britain, they're getting desperate. With so little that's good to defend, they'll lash out. So no complacency. No let up. Take nothing for granted. We need to be prepared, disciplined, relentlessly focused on the future, spend each day working to earn the trust of the British people, provide the leadership this country so desperately needs and walk towards a better future.


https://www.theguardian.com/politics/live/2022/oct/15/liz-truss-conservatives-tories-labour-keir-starmer-election-uk-politics-latest-news Jeremy Hunt says 'mistakes' made and taxes set to rise as Liz Truss clings to power – UK politics live | Politics