Health
Hundreds of children in mental health crisis 'unacceptable' wait at A&E every week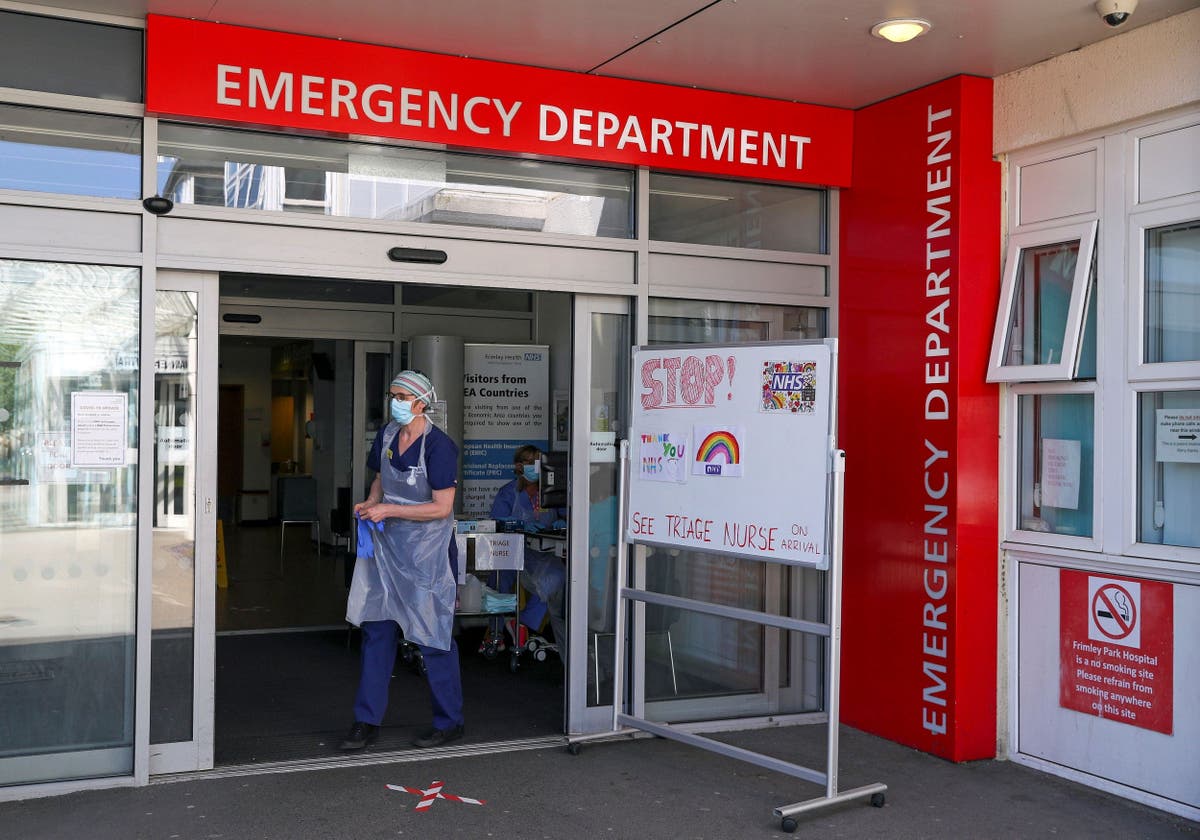 Hundreds children experiences mental health Problems attend A&E every day, with some waiting up to five days in emergency departments.independent can reveal
inside NHS Data leaked independent, It shows that the number of young patients waiting more than 12 hours after arrival has also doubled in the past year.
National Survey Sr A&E Doctors at the Royal College of Emergency Medicine (RCEM) found that children's mental health services had deteriorated in some areas over the past three years, with the majority of respondents warning that there were no children's crisis services open after 5pm.
One NHS trust chief executive has warned that its hospital A&Es have seen a "real increase" in attendances and long waiting times for people with severe mental health problems in recent months.
NHS England has set a benchmark for children across the country to have access to 24/7 crisis services by 2023.
However, a survey of almost 100 A&E doctors by RCEM found that only 20 per cent said they had a 24/7 service in their area.
Half of GPs reported that children's mental health services in their area were 'poor or terrible' and two-thirds said children were waiting more than 24 hours to be admitted to A&E, with some reporting waits of up to five days.
said one parent, Lee Pickwell independent Her daughter was admitted to the pediatric ward several times and spent several days in the emergency room "Section 136" before waiting more than two months for a mental health bed.
Internal NHS data obtained independent Sees between 900 and 1,500 children every week in A&E across England with mental health issues.
Between 50 and 100 of these children spend more than 12 hours in A&E after arrival.
NHS figures show around 6,000 adults go to A&E every week for mental health reasons. About one in 12 adult patients wait more than 12 hours after arrival.
At Monday's board meeting, Matthew Trainer, chief executive of Barking, Havering and Redbridge NHS Trust, said there had been a "real increase" in demand at A&E for those experiencing a mental health crisis.
Between January and June, the trust saw the overall number of people in the emergency department (ED) fall within 36 hours, but a "dramatic" increase in people with severe mental illness waiting that long.
More than half of those who attended the ED for mental illness had to wait more than 12 hours, and 10 percent waited more than 36 hours, he said.
He said: "We recently had a woman with a learning disability who was in King George's A&E for over 300 hours and we also had a baby who was recently admitted to the pediatric unit at Queen's and she was with us. for 26 days before he was transferred to an appropriate care unit. And at that point, we had to close three other beds so we could care for this person in the right setting. "
In these cases, patients were not waiting for mental health beds, but for social care placement.
An "unacceptably" long wait
Dr Mark Buchanan, RCEM's head of children's mental health, said independent that despite improvements, child mental health services still fall short of what is needed.
Dr Buchanan said: "I have seen children who have not been seen by Child and Adolescent Mental Health Services (CAMHS) who have been refused referral despite mum and dad taking turns sleeping outside the bedroom. the door because they were afraid that they would run away and do some harm."
He warned that children were missing school due to mental health crises, which would harm them in the long term.
However, Dr Buchanan added: "It's important to know that everyone is trying their best, it's really about the lack of beds, the number of staff, the lack of other places where children can be seen in crisis or before they reach that crisis."
The RCEM report said: "There are still unacceptably long waits for assessment in many departments and shockingly long waits for mental health beds. RCEM recognizes that more funding has been allocated to CAMHS services and that, in many cases, the rate limiting step in improving services has been the difficulty of recruiting specialists. Add to this an increasing amount [children and young people] In a pandemic with mental health problems, more needs to be done to meet the needs of this group.
While long waits for children are often due to delays in admission to CAMHS beds, recent research has shown that inpatient stays can have a negative impact on children with mental health conditions.
Ollie Parker, head of external affairs at YoungMinds, said in response to the data independent that they showed that the country is in an "unprecedented" situation.
He said: "There couldn't be clearer evidence that this is unsustainable. Many young people struggling with mental health still find it difficult to get help until they reach a crisis point. Facing a long wait or not meeting the threshold for treatment can have devastating consequences, making the problems even worse."
Mr Parker added that for patients in a moment of crisis, often among the most vulnerable, A&E can be the last place a young person wants to be, and waiting hours can leave people feeling worse.
"like a castle"
said Lee Pickwell, from Lincolnshire independent Her daughter, who has severe post-traumatic stress disorder, spent more than two months waiting for an inpatient bed earlier this year.
Throughout his wait, he suffered several crises that resulted in his being admitted to the wards of the general hospital.
In one incident, Mr Pickwell said NHS authorities intended to keep him in Unit 136, which is normally used in hospital for police custody, until a bed became available. He was there for two days before his parents were able to remove him.
Mr Pickwell said: "It was basically like a cell, a big room with just a bed. There is a toilet and a shower, but there is no door on the toilet. There are mirrors and cameras all around, basically it looks like a prison.
"He just refused to eat when he was there for two days, or he was drinking and that's why his blood sugar dropped. They kept checking, but they didn't take him to the children's ward because they said there was no bed, so they kept checking all night."
An NHS spokesman said the pandemic had affected mental health nationally, with record numbers of children seeking help and near-record levels of A&E attendances.
They added that the NHS had "rapidly completed" the introduction of 24/7 crisis lines, launched home treatment services for children and offered support to 2.4 million children at school.
Hundreds of children in mental health crisis 'unacceptable' wait at A&E every week
Source link Hundreds of children in mental health crisis 'unacceptable' wait at A&E every week