Lifestyle
Housing trends : have you heard about garden rooms ?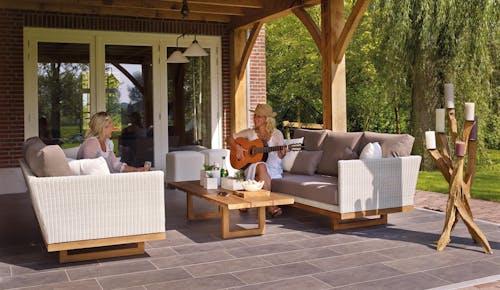 No more garden sheds traditionally used to store gardening tools and shelter your plants in winter. In 2022, the trend is towards multi-functional and contemporary constructions that adapt to your lifestyle! A real garden room, the new garden sheds allow you to create a welcoming and comfortable space for entertaining, relaxing or simply gardening!
Let yourself be inspired by the new modern design garden sheds that are sure to embellish your exterior and add value to your home…
The garden room : the trend of the moment !
A contemporary garden room is more than just a storage space for your tools or lawnmower. The modular structure of garden rooms allows you to include a pergola to create a comfortable terrace and to equip it with numerous finishes: walls, bay windows, lighting… Your garden room can be transformed into a real outdoor living space that adapts to your needs and lifestyle, check out these products to find your perfect garden room !
In terms of materials, aluminium and wood are popular. Aluminium outdoor furniture is maintenance-free, durable and offers a clean, modern look. And even if anthracite grey remains the best-seller, powder-coated aluminium is available in many different colours, textures and materials. The new wood-effect decors are particularly popular, providing a decorative touch without having to treat your garden shed every two years!  The wood seduces by its ecological and natural side.
An extra room in your garden !
Original and modern, a garden room is an easy-to-implement house extension that lends itself to all sorts of uses.Here are a few ideas for making the most of the potential of this new living space.
– Pool house : ideal for enjoying the pool, getting into the shade and storing all your pool accessories. Equip your pool house with a bar, comfortable tables and chairs and you'll feel like you're on holiday! The garden room can also be used to put in a jacuzzi or sauna.
– Summer kitchen : a second kitchen-dining room in the garden, which will avoid you unpleasant round trips to the house to bring the food. You will be able to enjoy the moment to the fullest and prepare more elaborate dishes than just grilling. It will also be very practical when you organize garden parties.
– Lounge area : create a cozy space to get together with friends, in peace and quiet and without messing up your house. You can also take advantage of this cosy space to do yoga, meditate, read a book or simply relax in calm.
– Workshop : whether you are a painter, a fan of creative hobbies or a DIY enthusiast, the garden room can be transformed into a creative space. This bright and pleasant environment is leading to inspiration and creation.
– Winter garden greenhouse : enjoy the spectacle of your garden in winter, snugged in your garden house. You can also turn it into a real green box, by putting in plants that would not tolerate low temperatures. Ideal if you are a botanical enthusiast !