United Kingdom
Flood warnings in NSW as Geelong celebrates 10th AFL grand final win – follow live | Australia news
Key events
Police say they are responding to reports that a man was seen in the waters off of King Street Wharf at Darling Harbour in Sydney in the early hours of this morning.
The man had not resurfaced, according to reports to police.
Police say:
About 1.20am today (Sunday 25 September 2022), emergency services were called to King Street Wharf at Darling Harbour, after reports a man was seen in the water but had not resurfaced.

Officers attached to Sydney City Police Area Command, with assistance from the Marine Area Command, commenced a search for the man.

The search was suspended and is due to resume this morning, with the assistance of police divers.

Inquiries into the incident are continuing.
Getting integrity commission law wrong will have 'dire consequences'
On the integrity commission, Hume is asked whether she supports the body having public hearings – a key point of contention.
She says the Coalition will support "anything that will stamp out corruption in public life". But she says she will wait to see Labor's legislation before articulating the opposition's position.
We've always said we supported the introduction of a federal Icac. This is really important legislation to get right, because if you get it wrong, it has dire consequences. We haven't seen the details of Labor's bill yet, so we want to ask those questions: will there be procedural fairness and natural justice; will hearings be in public or private; when will they be one or the other?
Hume: Coalition won't back cut to EV taxes
Hume is asked whether the opposition will support Labor's attempt to increase childcare subsidies. She says:
We do believe that childcare is a really significant cost and a really important service for many Australian families When we were in government, we did the largest reform to childcare in 40 years, and in fact reduced the cost of childcare and made sure that families were subsidised, particularly those who were working, those who were studying and volunteering.
She says they will wait to see Labor's legislation before deciding whether to offer support.
But Hume is less equivocal about the plan to reduce taxes for electric vehicles.
We won't be supporting that legislation because it is really poor policy. The electric vehicles, reduction of the FBT on electric vehicles, the government couldn't explain whether it would actually reduce emissions. The industry couldn't explain whether it would take up the electric vehicles. It is enormously costly, runs to billions and billions of dollars and if you can't prove the effect of a policy decision.
Coalition went to '2019-20 budget essentially in balance': Hume
Hume is asked whether she accepts the Coalition left the budget in structural deficit. She says:
Not at all. In fact, in 2019, because of the time we had been in government, we made sure there were budget offsets for new expenditures and we grew the economy. We could also decrease taxes and we went to the 2019-20 budget essentially in balance.
She says they had a "credible plan back to surplus" despite a $30bn deficit.
After the forward [estimates], but it was a credible plan back to surplus.
Hume calls on Labor to cut fiscal spending
Hume is asked about what Australia should be doing to avoid going into recession, following her leader's prediction that the US will do so.
She is asked whether the government should be cutting fiscal spending. Hume responds:
Well, the Labor government came to government promising higher deficits than the Coalition. In fact, it promised $45bn of off-balance-sheet spending and $18bn more of on-balance-sheet spending. I think it's time that the Labor government consider the priorities and whether it is a good idea to go ahead with it at a time when winding back your fiscal priorities, winding back your fiscal wish list to make sure that your fiscal policy is in line with your monetary policy would be a better solution.

When we were in government, we made sure we managed expenditures and grew the economy at the same time as lowering taxes.
'We don't have policies': shadow finance minister
In an interview on ABC's Insiders, shadow finance minister Jane Hume has just made a rather interesting claim.
She was being pressed on whether the Coalition supported the temporary fuel excise coming to an end. She said it was now Labor's policy to manage.
She said:
We don't have policies, we are in opposition, not in government.
That will be news to many, including Insiders host David Speers, who responded:
You do, you have policies on aged pension.
Dead whales to be moved from stranding site today
The Tasmanian government is scaling down its operation at the site where hundreds of whales were stranded on the state's west coast.
In a statement last night, the Department of Natural Resources and Environment said its staff will continue to monitor a "small number of whales" in Macquarie Harbour following the mass stranding this week.
Incident controller Brendon Clark said there were no living animals at the main stranding site.
Plans to remove the carcasses were progressing well, he said.
Through extensive aerial and vessel surveillance of Macquarie Harbour we have identified a small number of whales within the harbour precinct.

A number of those are still free swimming. However, we do have a couple that are stranded in shallower waters. We currently have crews responding to those animals and we aim to free them and get them swimming out of the harbour throughout the course of the afternoon.
The carcass disposal operation is set to start this morning, depending on the weather.
Flooding will worsen this week: SES
The SES has warned that a new trough and associated low pressure system is forecast to enter western New South Wales on Monday. The trough will progress westwards on Tuesday and Wednesday bringing more rain and the chance of thunderstorms "in many areas".
The SES says:
Given the current flooding, saturated catchments and full dams, this forecast front will likely exacerbate the current riverine flooding with multiple systems anticipated to see prolonged or renewed minor to major flooding.

With catchments wet and many dams at capacity, waterways are very sensitive to rainfall, and further river rises and renewed flooding are likely for the inland catchments.

Ongoing operational activity can be expected to continue in these areas.

The SES will be liaising closely with the Bureau of Meteorology to determine the impact areas of the forecast weather.
'I am pessimistic about seeing a republic achieved any time soon'
Trent Zimmerman, a longtime republican and former Liberal MP, has warned that King Charles' accession will not make the Australian republican cause any easier.
In a piece for the Guardian, he writes:
I have supported Australia becoming a republic since my early 20s. For me, it's about a simple proposition – should we have an Australian as our head of state – a head of state whose only loyalty is to our own nation.

Some monarchists have tied themselves in knots arguing the monarch is not our head of state – quite treasonous of them really – but that proposition does not really pass the pub test, let alone constitutional scrutiny.

Yet today, as I have been for some time, I am pessimistic about seeing a republic achieved any time soon. It will certainly not be advanced to the stage of a vote during this term of parliament and I suspect not until a future federal government is more than confident of its success.
Wee Waa and Warren will be cut off by floods for days: SES
The State Emergency Service has responded to 825 requests for assistance and performed 59 flood rescues in New South Wales in the past 11 days.
The SES this morning released new data on its workload in the recent flooding across the state, particularly in the central west and southern parts of the state:
Previous 24 hours up to 6am 25 September 2022:
A spokesperson said the flooding was continuing in western and southern NSW, with a number of flood warnings current.
The spokesperson said Wee Waa and Warren will remain isolated for "many days" and that major flooding was still affecting Gunnedah.
Many communities are experiencing continuous or repeat flooding. Currently minor to major flooding is present in several catchments across the state as flood peaks move slowly downstream.

Major flooding is still impacting Gunnedah. The river peaked at 8.24 metres yesterday morning. It is expected to remain at major level for the remainder of the weekend; however, it is slowly receding. As the water recedes SES personnel will be on the ground to conduct rapid impact assessments.

Wee Waa and Warren will remain isolated for many days. We are conducting numerous resupply operations to residents with essential stores such as water, food and medicines and have deployed aircraft and high clearance vehicles.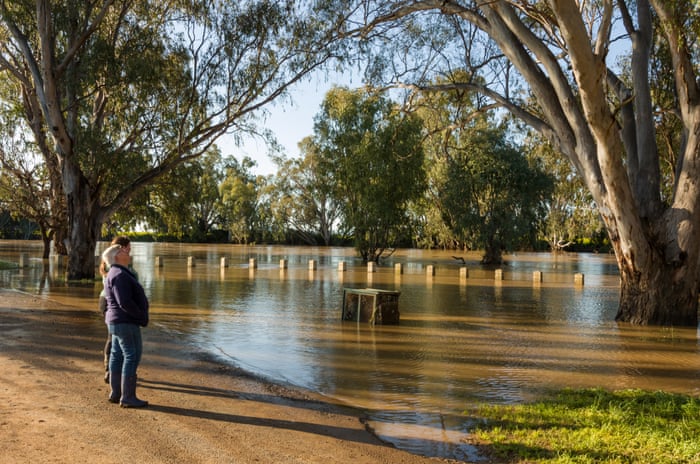 My colleague Tamsin Rose has investigated the booming demand for cosmetic injectables in Australia, which has prompted experts to warn of the risks of serious mental and physical harm.
You can read her piece here:
The river near Gunnedah, in NSW's north-east, peaked at 8.24 metres yesterday. Emergency services say they've had "a busy few days" in the area.
Child dies in Melbourne fire
A child has died after a fire took hold of a shed in Melbourne's east.
Emergency services were called to reports of a blaze at a home in Ringwood about 6pm on Saturday.
Once firefighters had put out the blaze, the young child was found dead inside the shed at the rear of the Belle Vue Avenue property.
The child is believed to be a resident of the house.
The cause of the fire is yet to be determined and an investigation continues on Sunday.
– from AAP
'Considerable' rainfall expected next week in NSW
Inland New South Wales will remain on high alert for flooding, despite a short reprieve from heavy rain.
Bureau of Meteorology forecasters are now turning their attention to early next week, with "considerable" falls expected on Tuesday and Wednesday in southern and central inland parts of the state.
Senior meteorologist Jake Phillips told AAP:
It's a bit early to know exactly how high the flood peaks will get as a result of that rain, but it's definitely something that our hydrology team will be checking out pretty closely over the next day or two

It definitely will exacerbate some of those flood peaks and could send some of them either into prolonged major flooding, or raise them from moderate into major, potentially.
Among places authorities were concerned about on Saturday was Gunnedah, where the Namoi River peaked at the major flood level of 8.24 metres in the morning.
State Emergency Service spokesman Greg Nash said people downstream of places like Gunnedah on the river should keep abreast of the latest flood information.
It's anticipated that water will move downstream slowly and may isolate some areas.
Wee Waa was isolated by road on Saturday, but the emergency service deployed resources to the town.
Nash warned against attempting to cross floodwaters in cars, saying:
We have some very resilient communities and some communities that are very much aware of their flood risk.

[However] we want people to drive to the conditions, and if you find a flooded or a damaged road as a result of flooding, to stop, turn around [and] find another away – it's not worth the risk to push on.
In the 10 days to Saturday, the emergency service had fielded more than 800 requests for assistance in NSW, which included nearly 60 flood rescues.
In the 24 hours to about 5.30pm on Saturday, the emergency service received 120 requests for help and five flood rescues.
– from AAP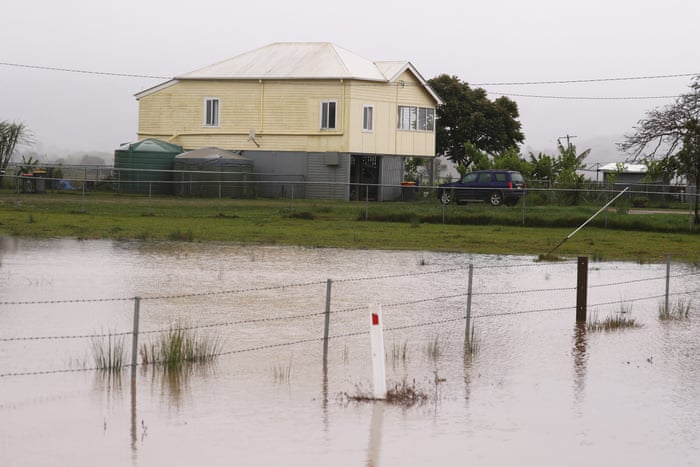 Five-year-old boy dies in NSW floods
We're waking to the horrible news that a five-year-old boy has died in the NSW floods. He was separated from his family on Friday night when their car was submerged in floodwaters on McGrane Way near Tullamore, in the state's central west.
Emergency services were called to the scene late on Friday, finding two younger children and their parents, who were clinging to trees. The five-year-old was missing.
Fiona Aveyard, a local farmer and Rural Fire Service member, told the ABC she had been one of the first to arrive on scene. She said:
It was a miracle they even got a signal to call for help.

We arrived in the dark in water that was backed up a couple of hundred metres from the crossing. The water at the low-level crossing was up about a metre and a half.

They [the family members] were downstream in the creek clinging to trees – a mother, a father and two young children.
The parents were able to free the two younger children from the car but the five-year-old was trapped in the car as it submerged.
Police have since announced that they'd found the five-year-old's body on Saturday afternoon.
Ch Insp David Maher told the ABC:
The family were very distraught in relation to the incident.

The family are Sydney residents but they do have a property in Tullamore. Tullamore is a very small community, very close-knit and it's had a major impact on the whole community.
Good morning and welcome to our live blog for Sunday 25 September.
We'll keep a close eye on the flooding in New South Wales, particularly in the central west.
Tragically, emergency services have found the body of a five-year-old boy, who was separated from his family on Friday night when their car was swept away in floodwaters.
Heavy rainfall is set to ease in the state's north today, but will continue in other areas.
We'll bring you all the latest developments as they happen.


https://www.theguardian.com/australia-news/live/2022/sep/25/flood-warnings-in-nsw-as-geelong-celebrates-10th-afl-grand-final-win-follow-live Flood warnings in NSW as Geelong celebrates 10th AFL grand final win – follow live | Australia news