United Kingdom
COVID-19: Areas with highest and lowest coronavirus vaccination rates over 50 years old revealed | UK News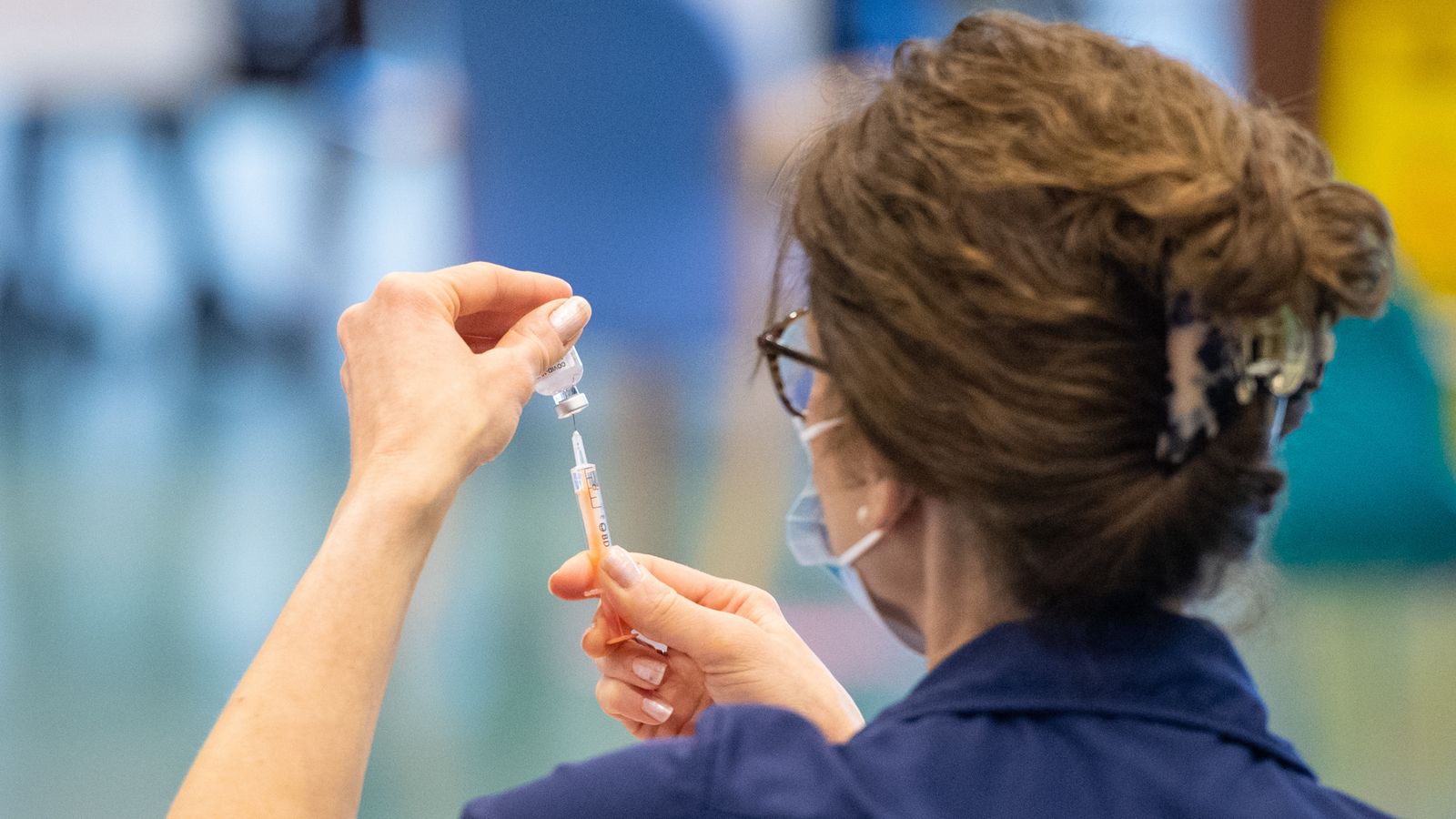 Regions of England with the highest COVID vaccination rates over the age of 50 have been identified.
At the top of the list is the Stratford on Avon Council area, which is believed to have been taken first by everyone over the age of 50.
London borough is at the bottom, and it is estimated that less than 66% of Westminsters over the age of 50 have been vaccinated so far.
Percentages were edited using NHS England's provisional data up to April 4 and the UK National Statistics Population.
According to the government, all adults in the UK will receive their first vaccination by the end of July.
6 million people have both shots According to the latest government statistics, over 31.8 million people have one across all adult age groups-it's close to 38 million in total.
This month's vaccinations have been low so far because they focus on the second jab rather than lowering the age group.
However, it has increased slightly since Tuesday (40,744), when the first dose was the lowest since early January.
Municipality; Number of people over 50 who received the first dose, estimated percentage:
Stratford on Avon-61,655, 100.1% (dose administered higher than estimated population)
Rashmoor-31,917, 99.8%
Worcester-36,087, 99.7%
Exeter-41,060, 99.6%
South Oxfordshire-59,248, 99.6%
Heart-38,683, 99.4%
Warwick-52,906, 99.4%
West Oxfordshire-46,707, 99.3%
North Devon-45,425, 99.1%
Stroud-53,158, 98.9%
Bath and North East Somerset-70,409, 98.9%
Charwell-56,888, 98.9%
South Northamptonshire-39,606, 98.9%
Basingstoke and Dean-65,695, 98.7%
Telford and Wrekin-64,802, 98.7%
South Norfolk-61,957, 98.6%
West Berkshire-63,102, 98.4%
Selby-37,676, 98.3%
East Hampshire-54,805, 98.1%
South Cambridgeshire-61,797, 98.1%
St Albans-52,331, 98.1%
Wiltshire-209,534, 98.0%
Sally Heath-35,430, 97.8%
Tamworth-29,022, 97.8%
Huntingdonshire-71,247, 97.8%
South Gloucestershire-106,166, 97.8%
Chelmsford-67,076, 97.8%
Waverly-52,444, 97.7%
Wichabon-59,821, 97.7%
Horsham-62,740, 97.7%
Rible Valley-27,972, 97.7%
South Derbyshire-40,866, 97.7%
Harborough-40,430, 97.6%
Veil of Whitehorse-52,977, 97.6%
Gilford-49,950, 97.6%
Tewkesbury-39,630, 97.5%
Bristol City-123,395, 97.5%
Wire Forest-44,942, 97.5%
Cheshire West and Chester-142,355, 97.5%
Mid Devon-36,250, 97.4%
South Somerset-76,862, 97.4%
Rushcliffe-48,099, 97.4%
Broadland-60,220, 97.4%
Cheltenham-43,615, 97.3%
West Lancashire-47,843, 97.3%
Richfield-45,829, 97.3%
Fareham-51,178, 97.3%
North Kesteven-50,863, 97.3%
Wokingham-61,946, 97.3%
Leeds-247,339, 97.3%
East Lee-51,218, 97.3%
Test Valley-52,535, 97.2%
Swindon-77,841, 97.2%
Norwich-41,263, 97.2%
Colchester-65,598, 97.2%
Portsmouth-64,042, 97.1%
Derby Sherdales-36,368, 97.1%
Central Bedfordshire-106,333, 97.1%
Teignbridge-64,146, 97.1%
Cannock Chase-39,098, 97.1%
East Devon-73,299, 97.1%
Atlesford-36,365, 97.1%
Warrington-80,411, 97.1%
Melton-23,075, 97.0%
Ashford-49,731, 97.0%
Cotswold-42,403, 97.0%
Daventry-35,652, 97.0%
North Somerset-92,542, 96.9%
West Devon-28,092, 96.9%
Milton Keynes-83,178, 96.9%
Winchester-50,127, 96.9%
North Warwickshire-27,621, 96.9%
Mid Suffolk-47,087, 96.9%
St Helens-71,423, 96.9%
Churnwood-65,420, 96.8%
South Rible-45,494, 96.8%
Hinckley and Bosworth-47,220, 96.8%
Oxford-38,824, 96.8%
Three Rivers-34,468, 96.8%
Hamburgon-44,216, 96.7%
Dorset-188,255, 96.7%
Tonbridge and Maring-49,620, 96.7%
Havant-54,650, 96.7%
Brabby-39,777, 96.6%
North Hertfordshire-50,085, 96.6%
Kingston upon Hull-82,699, 96.6%
Maldon-30,560, 96.6%
Lancaster-54,744, 96.6%
Torridge-33,614, 96.6%
Stafford-57,617, 96.5%
South Kesteven-61,658, 96.5%
Broms Gloves-41,970, 96.5%
Malvern Hills-38,815, 96.5%
Gloucester-45,117, 96.5%
Gedling-47,605, 96.5%
Chichester-57,406, 96.5%
Newcastle Under Lime-50,190, 96.5%
East Hartfordshire-56,442, 96.5%
Newark and Sherwood-51,615, 96.5%
Plymouth-93,488, 96.4%
Rutland-17,909, 96.4%
Rugby-40,061, 96.4%
Sedgemore-54,291, 96.4%
Harrogate-71,556, 96.4%
Cheshire East-165,557, 96.4%
North East Derbyshire-45,83196.4%
Preston-44,365, 96.4%
Middlesbrough-47,097, 96.3%
East Suffolk-117,734, 96.3%
Sunderland-108,468, 96.3%
Reading-44,204, 96.3%
Breckland-61,649, 96.3%
York-72,684, 96.3%
East Lindsey-72,720, 96.2%
West Lindsey-43,598, 96.2%
High peak-39,491, 96.2%
Buckinghamshire-203,807, 96.2%
Baberg-42,742, 96.2%
Chorley-46,072, 96.1%
Kettering-37,136, 96.1%
Bracknell Forest-40,458, 96.1%
Mid Sussex-59,088, 96.1%
Allerdale-44,491, 96.1%
Fylde-39,337, 96.1%
Runnymede-29,845, 96.1%
Somerset West and Taunton-70,237, 96.1%
Craven-27,923, 96.1%
Tendring-71,969, 96.1%
Redditch-30,482, 96.1%
Staffordshire Mooreland-45,210, 96.0%
North West Leicestershire-40,867, 96.0%
Cambridge-33,115, 96.0%
East Riding of Yorkshire-160,133, 96.0%
East Cambridgeshire-34,902, 95.9%
Wakefield-131,419, 95.9%
Amber Valley-54,226, 95.9%
Blackpool-55,802, 95.9%
Fenland-42,459, 95.8%
East Staffordshire-45,528, 95.8%
Rydale-26,824, 95.8%
Redcar and Cleveland-57,818, 95.8%
Brighton & Hove-84,744, 95.7%
Mole Valley-38,527, 95.7%
Solihull-85,033, 95.7%
Watford-27,562, 95.7%
Adu-26,852, 95.7%
Broxtowe-44,786, 95.7%
Rochford-37,032, 95.6%
Durham-212,533, 95.6%
Brain Tree-59,804, 95.6%
Windsor and Maiden Head-55,827, 95.6%
South Staffordshire-50,686, 95.6%
Canterbury-60,416, 95.6%
Bolsorber-32,056, 95.5%
Isle of Wight-68,735, 95.4%
Stockton-on-Tees-72,814, 95.4%
Crawley-33,695, 95.4%
King's Lynn and West Norfolk-68,137, 95.4%
North Lincolnshire-70,171, 95.3%
Epping Forest-50,411, 95.3%
Darlington-41,789, 95.3%
Maidstone-63,574, 95.3%
Heartsmere-37,618, 95.3%
Ashfield-48,304, 95.2%
Bassett Row-49,264, 95.2%
Tandridge-35,224, 95.2%
Harlow-27,906, 95.2%
Arun-75,942, 95.2%
Mendip-50,224, 95.2%
Stockport-111,627, 95.1%
Noseley-54,765, 95.1%
Stoke-on-Trent-86,475, 95.1%
Spelthorne-36,547, 95.1%
Rotherham-100,633, 95.1%
Lincoln-29,744, 95.1%
Tobay-63,123, 95.1%
Gosport-32,903, 95.0%
Nannyton and Bedworth-48,326, 95.0%
Halton-47,326, 95.0%
Scarborough-51,862, 95.0%
Wire-53,111, 95.0%
Dudley-121,734, 95.0%
Dacolm-54,415, 95.0%
Southham-43,042, 95.0%
New Forest-87,442, 95.0%
Coventry-98,955, 94.9%
Cornwall-252,332, 94.9%
Bournemouth, Christchurch, Pool-152,916, 94.9%
Stevenage-29,034, 94.9%
West Suffolk-67,996, 94.8%
Great Yarmouth-42,376, 94.8%
Copeland-29,673, 94.7%
Shropshire-143,617, 94.7%
Erewash-45,454, 94.7%
Basildon-63,773, 94.7%
Sevenoaks-47,959, 94.7%
Mansfield-41,666, 94.7%
Brentwood-29,825, 94.6%
Bedford-61,072, 94.6%
North Norfolk-55,381, 94.6%
Barrow-in-Furness-27,388, 94.6%
Broxbourne-34,211 and 94.5%
Doncaster-115,954, 94.5%
Northampton-70,439, 94.5%
Epsum and Youwell 28,564, 94.5%
Sheffield-181,970, 94.5%
Elmbridge-50,142, 94.4%
Wellingborough-29,611, 94.4%
Medway-91,622, 94.4%
Castle Point-39,155, 94.4%
Northeast Lincolnshire-61,727, 94.4%
Burial-67,953, 94.4%
Reigate and Banstead-52,898, 94.3%
Swale-55,453, 94.3%
Bolton-97,503, 94.3%
Herefordshire-84,596, 94.3%
East Northamptonshire-37,709, 94.2%
Chesterfield-42,052, 94.2%
Hartlepool-35,540, 94.2%
Welwyn Hatfield-37,492, 94.1%
Dartford-33,441, 94.1%
Wigan-122,211, 94.1%
Peterborough-60,732, 94.1%
Wilden-73,797, 94.1%
Worthing-44,782, 94.1%
Leicester-90,789, 94.1%
Walking-34,450, 94.1%
Carlyle-44,359, 94.0%
Audby and Wigston-22,032, 94.0%
Eden-25,719, 94.0%
Walsall-95,384, 94.0%
Derby-82,270, 93.9%
Trafford-81,582, 93.9%
Barnsley-93,663, 93.9%
Southampton-67,543, 93.9%
Wirral-129,996, 93.7%
Richmond Apontems-64,910, 93.7%
Ipswitch-44,602, 93.7%
Bromley-113,970, 93.7%
Calderdale-78,072, 93.4%
South Holland-39,998, 93.4%
Kobe-22,438, 93.3%
Rossendale-26,436, 93.3%
Lewis-45,454, 93.3%
Sefton-116,942, 93.3%
Gravesham-36,325, 93.3%
Blackburn and Darwen-45,136, 93.3%
Tameside-79,371, 93.1%
South Lakeland-50,804, 93.1%
Liverpool-147,366, 93.0%
Gateshead-74,390, 93.0%
South Tyneside-58,880, 92.9%
North Tyneside-79,202, 92.9%
Sutton-64,572, 92.9%
Hillingdon-86,166, 92.8%
Rother-48,550, 92.8%
Tunbridge Wells-43,758, 92.8%
Hyndburn-28,233, 92.7%
Richmond Shah-21,188, 92.7%
Sandwell-98,857, 92.7%
Havering-87,537, 92.5%
Bexley-80,906, 92.5%
Northumberland-142,379, 92.4%
Hounslow-72,322, 92.4%
Kingston Apontems-50,283, 92.3%
Sanette-57,503, 92.3%
Merton-56,752, 92.3%
Newcastle upon Tyne-84,404, 92.3%
Bradford-160,258, 92.0%
Oldham-74,241, 92.0%
Metropolitan Boroughs-148,435, 92.0%
Folkestone and Heiss-48,048, 92.0%
Dover-49,247, 91.9%
Manchester-114,236, 91.9%
Wolverhampton-83,258, 91.9%
Salok-49,757, 91.6%
Boston-25,831, 91.5%
Southend-on-Sea-64,744, 91.4%
Isles of Scilly-973, 91.4%
Burnley-30,936, 91.3%
Rochdale-71,244, 91.2%
Pendle-31,418, 91.1%
Eastbourne-42,182, 91.0%
Salford-71,521, 90.1%
Birmingham-290,587, 90.0%
Hello-76,165, 89.9%
Slough-34,133, 89.7%
Eering-92,896, 89.4%
Hastings-34,219, 89.3%
Nottingham-76,976, 89.0%
Onesworth-67,696, 89.0%
Luton-53,718, 88.5%
Dean Forest-36,231, 87.9%
Greenwich-65,969, 87.7%
Enfield-90,444, 87.5%
Burnett-108,545, 87.3%
Red Bridge-76,773, 86.8%
Barking and Dagenam-43,893, 86.5%
Lambeth-64,562, 85.1%
Islington-45,745, 84.1%
Croydon-105,777, 84.0%
Harlingay-60,280, 83.7%
Southwark-63,971, 83.0%
Waltham Forest-60,999, 82.9%
Ryusham-64,459, 82.4%
Hammer Smith and Fulham-40,529, 82.0%
Brent-79,804, 82.0%
Hackney-47,370, 80.7%
Newham-59,799, 79.6%
Tower Hamlets-43,198, 76.0%
Kensington & Chelsea-38,962, 72.1%
Camden-51,323, 71.3%
City of London-2,354, 67.0%
Westminster-48,941, 65.7%
COVID-19: Areas with highest and lowest coronavirus vaccination rates over 50 years old revealed | UK News
Source COVID-19: Areas with highest and lowest coronavirus vaccination rates over 50 years old revealed | UK News