Tech
Construction of a £ 30 million supercomputing center is underway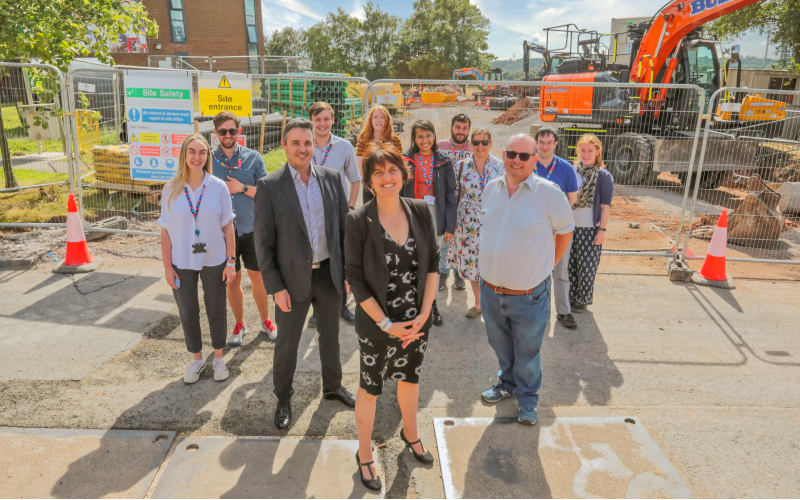 Construction is about to begin on a £ 30 million supercomputing center at Sci-Tech Daresbury.
The new center is part of the £ 210 million Hartree National Center for Digital Innovation (HNCDI), which includes £ 172 million of government funding through UK research and innovation and an in-kind contribution of £ 38 million. pounds from IBM.
Planning and preparation work on the new 33,000-square-foot state-of-the-art supercomputing center is now complete and construction work is imminent.
Many of the key partners in the project used the 60th Daresbury Laboratory anniversary Thursday (July 14th) to participate in a photo shoot at the finish line.
Hartree National Center for Digital Innovation is bringing together world-leading expertise with innovative artificial intelligence (AI) and quantum computing technology, giving the public and private sector access to cutting-edge computing that will help breakthroughs. and innovation.
The joint program between the UK's Science and Technology Facilities Council (STFC) and IBM will expand to include an additional 60 scientists, to join the existing 130 employees within the Hartree Center, which is part of STFC's Daresbury Laboratory at Sci-Tech Daresbury.
The new supercomputing center will build on groundbreaking research conducted by the Daresbury Laboratory since 1962, which has helped create new cancer therapies, cleaner fuel and energy.
Paul Vernon, head of the STFC's Daresbury Laboratory, said, "Every day there is incredible research being done right here that has the potential to improve our lives. We remain committed today as never before to supporting excellent research and providing access to world-class research facilities and expertise to solve real-world challenges.
"Celebrating our 60th anniversary an immensely proud moment for all of us here at Daresbury Laboratory. I would like to thank everyone who has contributed to its growth, many of whom have dedicated their entire careers to Daresbury. I look forward to our next 60 years with great impatience, celebrating the continued successes of the facility, made possible thanks to dedicated staff both now and in the future. "
The Liverpool City Region reveals the ambition of an innovation powerhouse
Home to some of the UK's most advanced technologies in computing, data science and artificial intelligence (AI), the Hartree Center is one of the UK's only supercomputing centers dedicated to industrial applications.
Companies can access specialist and supercomputer skills that are normally only available to academia and industry on a large scale, reducing the time and cost of developing new products.
STFC's Kate Royse, Director of Hartree Center, said: "Here at Hartree Center we are committed to providing an environment where British science and business of all sizes can be at the forefront of global research and development. in the latest digital technologies, such as artificial intelligence and quantum computing.
"Providing access to these technologies and support allows companies to reduce risk, increase productivity and achieve success, benefiting our economy, both here in the Northwest and domestically."
Today, the rapidly expanding campus is home to more than 150 technology companies, ranging from cutting-edge high-tech start-ups to major international companies such as IBM Research, Hitachi Hi-Tech Europe, and Croda.
John Downes, managing director of Langtree and director of Sci-Tech Daresbury, said, "I would like to congratulate the Daresbury Laboratory for 60 years of pioneering and inspiring science and innovation. The pioneering work undertaken with the SRS has set a benchmark for what can be achieved on our campus and I am very proud that Sci-Tech Daresbury-based companies keep this legacy alive today by offering pioneering work across a wide range of sectors in order to improve the world around us by creating tangible economic benefits for the region of the city of Liverpool ".
Construction of a £ 30 million supercomputing center is underway
Source link Construction of a £ 30 million supercomputing center is underway