Tech
Coda and Notion turn the heat on Microsoft Office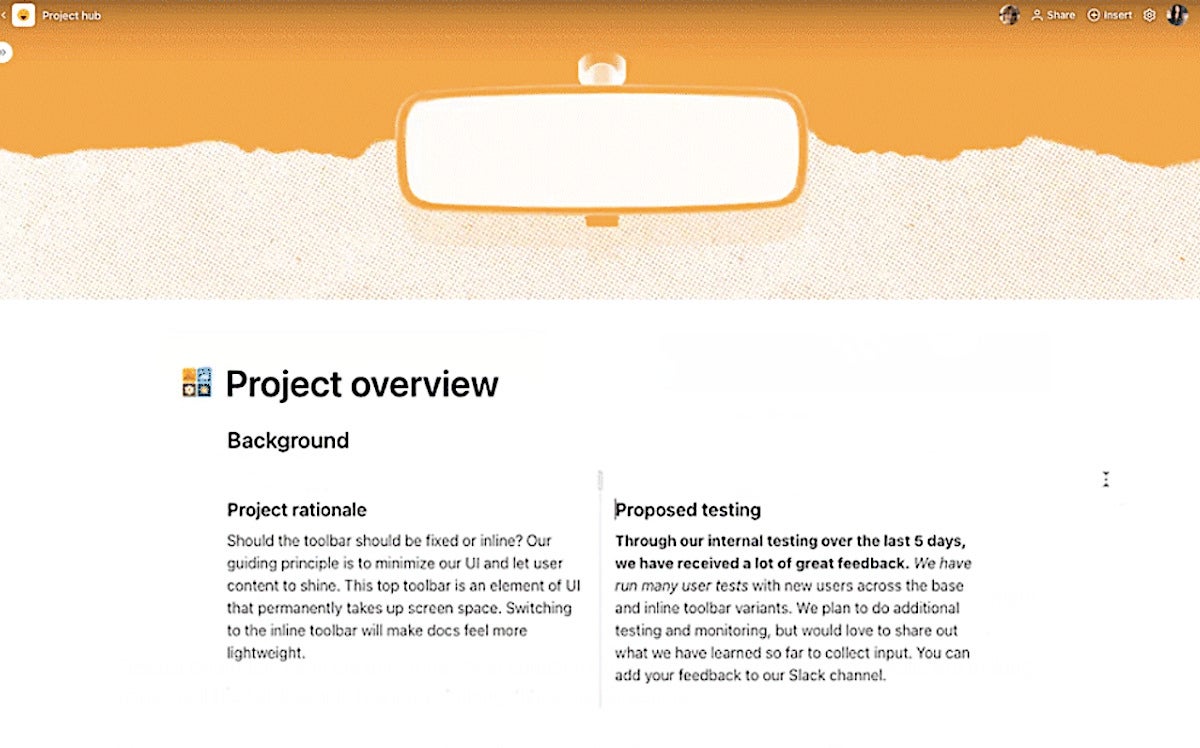 Microsoft Office apps have long been the main enterprise productivity tools, with Google Workspace as its main competitor. But newcomers have emerged in recent years who promise a new approach to document creation.
Two of the well-funded start-ups in charge – Coda and Notion – offer their state-of-the-art "all-in-one" workspace apps, which combine features of documents, spreadsheets, databases , wikis and many more into one interactive page possible. integrate data from multiple sources.
Both companies recently announced new features for their respective platforms as they seek to challenge productivity app holders.
"Coda and Notion have developed innovative approaches to collaborative document creation that aim to address the limitations of traditional spreadsheets and word processors – the need to enhance the user experience. enabling smart automation and tighter integration with existing workflows, "said Raúl Castañón. , a senior analyst at 451 Research, a division of S&P Global Market Intelligence.
"These emerging 'live documents' are likely to have an impact on the competitive landscape and, for some companies, are a viable alternative to Google or Microsoft's productivity and collaboration apps."
Notion adds synchronized databases, team spaces
Notion, which launched its app in 2016 and has 25 million users, has unveiled many new features Block by block event this week.
These include a new app sidebar that allows users to create dedicated spaces for Notion content. These articles can be allocated to specific teams, such as marketing or sales, or cross-functional projects such as product launch, to organize work more efficiently, Notion said in a statement. blogmail. Teams can be designated as public or private teams to ensure that the appropriate individuals are able to access sensitive information, and restrictions can be imposed on individual pages within a team for more granular control.
The feature will be rolled out gradually from this spring, Notion said.
New ways to visualize shared data are coming in a few weeks, and fast filters will be added to the Notion database that can be saved and retrieved later. Users will be able to switch between custom visual tabs at the top of databases, and access custom options in a settings panel.
An update to Notion databases, due later this year, will allow users to sync structured data in the app with external sources, such as Google Calendar, Jira, and GitHub.
Other updates at the Notion user event on Thursday include general availability of the Notion API as well as additional API functionality such as improved administrative controls and documentation. The Notion Certification Program was launched to help power users of Notion expand their expertise with official accreditation as external consultants or internal administrators, and the Notion Champions Community provides a place for enthusiasts to connect and share advice as well as interact directly with Notion.
Part 3.0 overhaul editing tool
Coda, which launched its app in 2019, announced its 3.0 release last week. The updated software includes an overhauled editing tool, the result of a two – year development process, CEO and co – founder Shishir Mehrotra said in a statement. blogmail.
One feature of the new editor is the ability to customize page layouts in an easier way, using a drag-and-drop interface to rearrange text blocks as needed. This combines the benefits of two types of editing tools, Coda said – those used for writing and those used by publishers, for example in wiki or website design. "If you can use the same surface for authoring and publishing, a wide array of scenarios opens," Coda said, referring to a portfolio website, a staff wiki, or a panel to display OKRs and metrics as options.
Another feature of the new editor is the column on canvas. This allows users to insert a Section page – with images, tables, and views – into a series of spreadsheets; it can be used for purposes such as writing draft blog posts directly from a content calendar, Coda said.
Other updates include changes to Parts Packs, launched in Parts 1.0 to allow users to create custom automations that interact with third – party apps, such as a button to send emails from a document to the Gmail Package.
With the launch of Pack Studio in Part 3.0, users can build their own Packages in minutes using a browser interface, Coda said, which requires minimal coding knowledge. These can be used internally across an organization, or shared more widely in the Part Gallery market, where they can be listed as free to use or paid for.
A viable alternative?
The updates from Coda and Notion are in line with key needs for business users identified in 451 Research survey data, Castañón said, namely by providing better connectivity across productivity apps.
The analysis firm's research highlighted some of the biggest obstacles to team productivity for your business. These include: information set-up in multiple applications (28%), lack of integration between applications (26%), and difficulties in collaborating effectively across applications (21%).
Other opportunities for improving productivity cited by respondents include the integration of data from various applications into workflows (31%), reporting on progress against targets (24%), and the creation of documents, spreadsheets, and slides. (24%). .
These priorities are not lost on Microsoft or Google. Both vendors are updating their own productivity apps to provide greater flexibility for users. For Google, this was caused by the smart canvas concept and better connectivity between apps like Docs, Sheets, and Slides, as well as collaboration tools like Meet and Chat.
Microsoft has been building out its Fluid Framework for some time, finalizing the creating the Loop appannounced last year and currently under preview, which appears to be a more direct competitor to newcomers such as Coda and Notion.
While Coda and Notion are very popular, Castañón does not expect to replace Microsoft and Google apps anytime soon.
"Rather, they are complementary tools designed to address situations where traditional word processors and spreadsheets were not designed for them," he said, with capabilities for real-time and asynchronous collaboration, record systems integration, management team projects, and workflow automation. .
"More likely, we will see an intermediate stage where they will be side by side with Microsoft and Google apps, providing some level of integration," Castañón said.
Copyright © 2022 IDG Communications, Inc.
Coda and Notion turn the heat on Microsoft Office
Source link Coda and Notion turn the heat on Microsoft Office