Business
Britain is at risk of a prolonged recession and the deepest fall in living standards in history, the Bank of England warns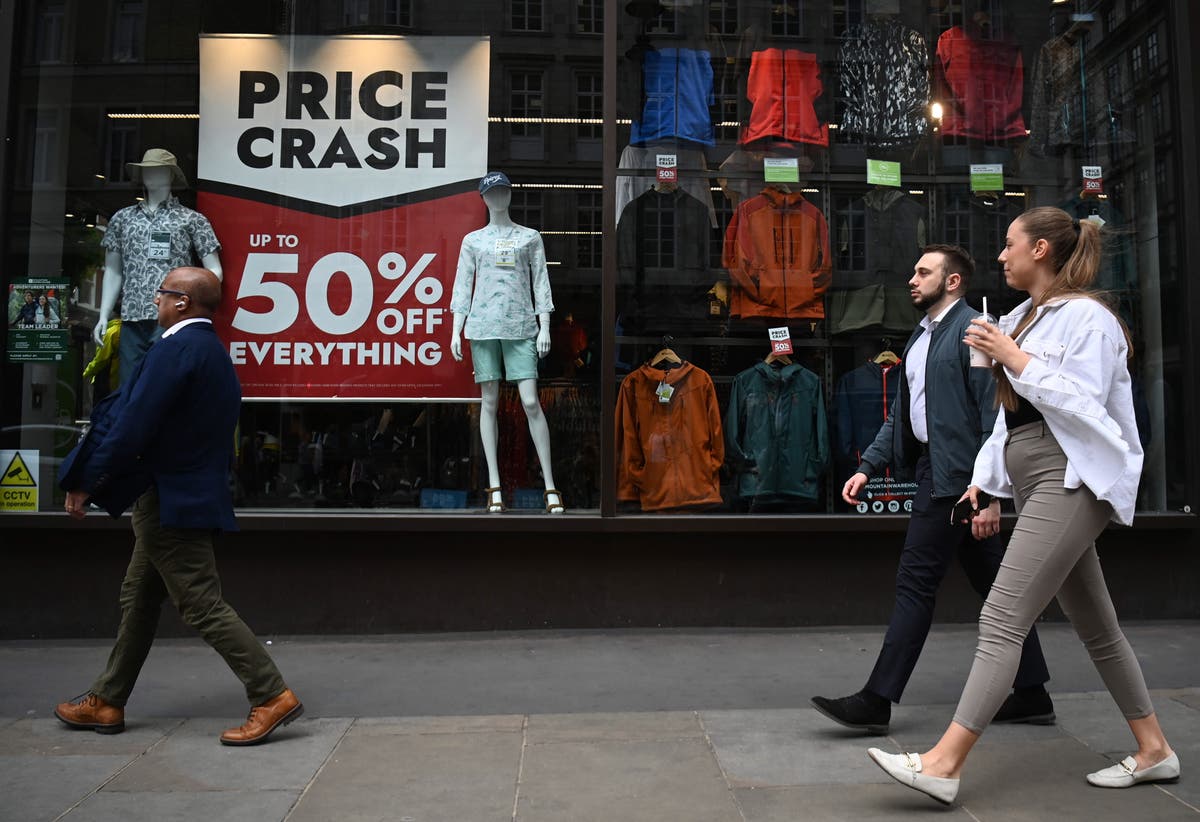 Britain will plunge into a year-long recession this autumn and households will suffer the deepest fall in living standards on record, the Bank of England has warned.
In one of its gloomiest assessments of the UK's economic outlook, the Bank's Monetary Policy Committee (MPC) said inflation would peak at 13.3 per cent in the final three months of this year as average electricity bills triple from £1,200 in 2021 up to £3,500. until October.
The economy is now forecast to contract for five consecutive quarters for the first time since the 2008 global financial crash.
The inflation forecast has increased sharply from the 9.4 percent forecast just three months ago, and prices are now set to rise rapidly through 2023.
That means cost of living crisis will continue over the next year and will begin to decline only in 2024, according to the Bank's latest forecasts. Real household incomes are expected to fall by an average of about 5 percent over two years, the deepest drop since records began in 1960.
The scary numbers will raise concerns about who will become the next prime minister.
Liz Truss promised billions in tax cuts in a bid to win over Conservative Party members, while Rishi Sunak attacked the plan as fiscally irresponsible.
Neither candidate has laid out detailed plans for how they would support families struggling with a rapidly worsening cost-of-living crisis.
The Joseph Rowntree Foundation's Chief Economist Rebecca MacDonald said: "We already know that 7 million low-income families have had to sacrifice food, heating and even showers this year because they couldn't afford it.
"While the government may have taken a break from the cost of living emergency, these families cannot rest after a year of financial fear.
"They will wonder why the additional urgent decisions needed to strengthen family finances ahead of winter have not yet been taken."
Labour's shadow chancellor, Rachel Reeves, said: "This is further evidence that the Conservatives have lost control of the economy and inflation will continue to soar and mortgage and loan rates continue to rise.
"While families and pensioners worry about how they are going to pay their bills, Tory leadership candidates are going around the country announcing unworkable policies that will do nothing to help people get through this crisis."
Experts said energy costs could rise further in January, with Investec predicting bills for the average household will now hit £4,210 in January when regulator Ofgem reviews the price cap.
The MPC warned that there was "extremely high" risk around its latest forecasts, and the situation could worsen further if gas prices rise further.
Analysts believe that scenario is becoming more likely after Russia cut supplies to Europe last month and governments across the continent began rationing supplies.
Even after the economy starts growing, we're in for more pain, with unemployment rising from 3.8 percent to 6.3 percent in 2025.
Despite the gloomy outlook, the Bank's nine-member MPC voted eight to one to raise interest rates by 0.5 percentage point to 1.75 percent, the highest level since January 2009.
The economy as a whole is expected to shrink by 2.1 percent, meaning a recession comparable to the magnitude of the early 1990s and 1980s, the bank said.
When the country emerges from recession in 2024, the Bank expects growth to remain close to zero for the next year.
A huge increase in inflation would also hit public finances, adding billions to the national debt and interest payments on inflation-indexed bonds.
Andrew Bailey, the governor of the Bank, defended the rate hike, arguing that persistent inflation would be "even worse" if interest rates were not raised, and that low-income households would be hardest hit.
Chancellor Nadhim Zahavi said: "Tackling the cost of living is a top priority and we are taking action to support people in these difficult times with our £37bn household relief package, which includes direct payments of £1,200 the most vulnerable families. and £400 off electricity bills for everyone.
"We are also taking important steps to bring inflation under control through strong, independent monetary policy, responsible tax and spending decisions, and reforms to boost our productivity and growth."
Britain is at risk of a prolonged recession and the deepest fall in living standards in history, the Bank of England warns
Source link Britain is at risk of a prolonged recession and the deepest fall in living standards in history, the Bank of England warns