United Kingdom
Birds drowning in foie gras, truffles and brandy: Queen Victoria's menu | Heritage
By any standard, it was a spectacular lunch: finest soup, jelly-like trout and shrimp rice, truffle and foie gras stuffed quail, chicken, beef, duck, asparagus, great Vienna donuts, gold A sweet souffle adorned with leaves, and a little songbird that is either a luxury joy to remember, or a gastronomic shame.
A bird called Ortran weighs about an ounce and has been hunted and left in the dark for several weeks to gain weight. After that, they drowned in Armagnac, roasted and burnt, and were eaten in a hedonistic bite.
The late Anthony Bourdain once described eating Ortran as "like a hot rush of fat, intestines, bones, blood, and meat … really delicious."
Today, hunting of Ortran is banned and hated to eat them, but in 1890 it was so much included in the menu ranked as one of Queen Victoria's favorite meals. It was.
The dining story is told in a new exhibition that explores the history and secrets of the kitchen at Waddesdon Manor in Buckinghamshire, one of Britain's most spectacular country houses.
Pippa Shirley, head of the Waddesdon collection and gardens, said the kitchen is a "hidden hero" in British and rural mansions.
"It's great to discover more, as the general public is now so much interested in how these big homes work and operate. "She said.
"Downton [Abbey] It's played a big role, but who is using Ancestry or Who Do You Think You Are? Given a program like, I think people are more interested in their history. "
Waddesdon's kitchen was particularly impressive. The house was completed in 1883 as a weekend retreat for Sir Ferdinand de Rothschild, one of Britain's wealthiest men.
The Rothschilds have a gorgeous Saturday-Monday house party, and of course, Sèvres porcelain eats out and, as Gainesborough praises, the best food and drinks are now run by the National Trust. It was Waddesdon. wall.
In 1890, Victoria came for lunch and arrived at Alice Burley by train from Windsor. The royal visit menu is the only one that has survived since that time.
Similar to royal customs, the Queen ate separately from other guests. She was in the main dining room with her daughters, but everyone else was in the small dining room. The Royal Artillery played a hilarious song between the two rooms.
Victoria was clearly enjoying it, and Rothschild later stated that "the royal appetite was a saying, and the Queen … reappeared only around 3:30." His butler reported that her dignity had returned to cold beef for a second aid.
According to Shirley, the meal made a considerable impression on the Queen. "We know she sent people from Windsor and learned the secrets from Waddesdon's kitchen. The standard of cooking was very high."
The menu will be displayed with photos that the curator hopes to help fill the knowledge gap about the people who worked in the kitchen.
"There's less information than you can imagine about the staff here, so it's a good idea to know more about your servants and their lives," Shirley said.
A grainy black-and-white photo taken around 1900 shows how accurately the Waddesdon kitchen was restored in the 1990s, but curators want to know who the people gathered around the table. I am.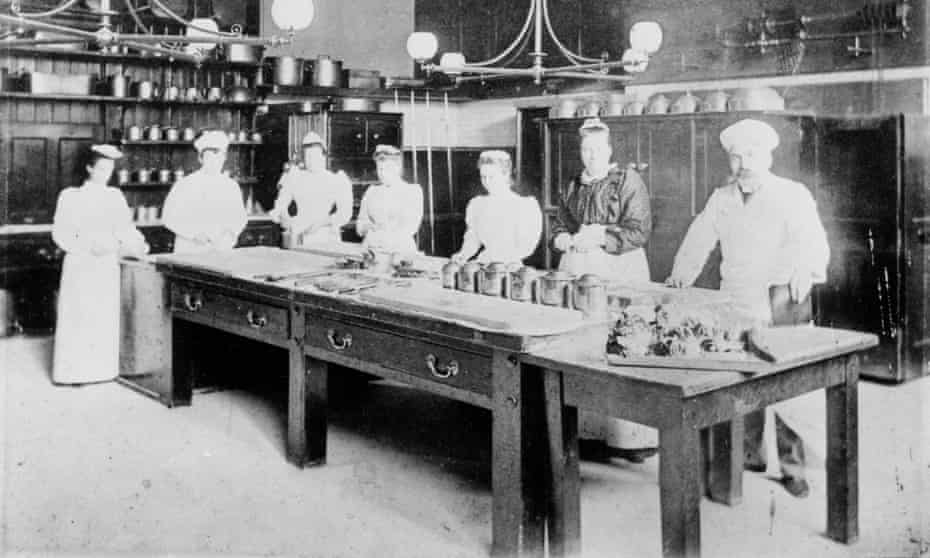 Rothschild died in 1898 and the management of the house was handed over to his sister Alice.
Waddesdon's chief archivist, Catherine Taylor, said she was quite confident that Alice's chef at the time was Monsieur Bonner.
According to the few records that exist, the other kitchen staff were called Annie Goff, Susan Smith, Susan Cole, and Funny Sams.
Taylor said: "If you're looking at family history or knowing the ancestors who worked in the mansion during this time, we'd love to hear from you, especially to identify individual members of the kitchen brigade at the turn of the century. This is especially true if you have old family photos that may be useful to you. "
• The history of Manor Kitchen is in Waddesdon Manor, Buckinghamshire, from February 3rd to March 7th.
Birds drowning in foie gras, truffles and brandy: Queen Victoria's menu | Heritage
SourceBirds drowning in foie gras, truffles and brandy: Queen Victoria's menu | Heritage