Entertainment
Bella Hadid: Supermodel says she regrets having 14 nose surgeries and talks about pressure to be 'forced to be perfect' | Ents and art news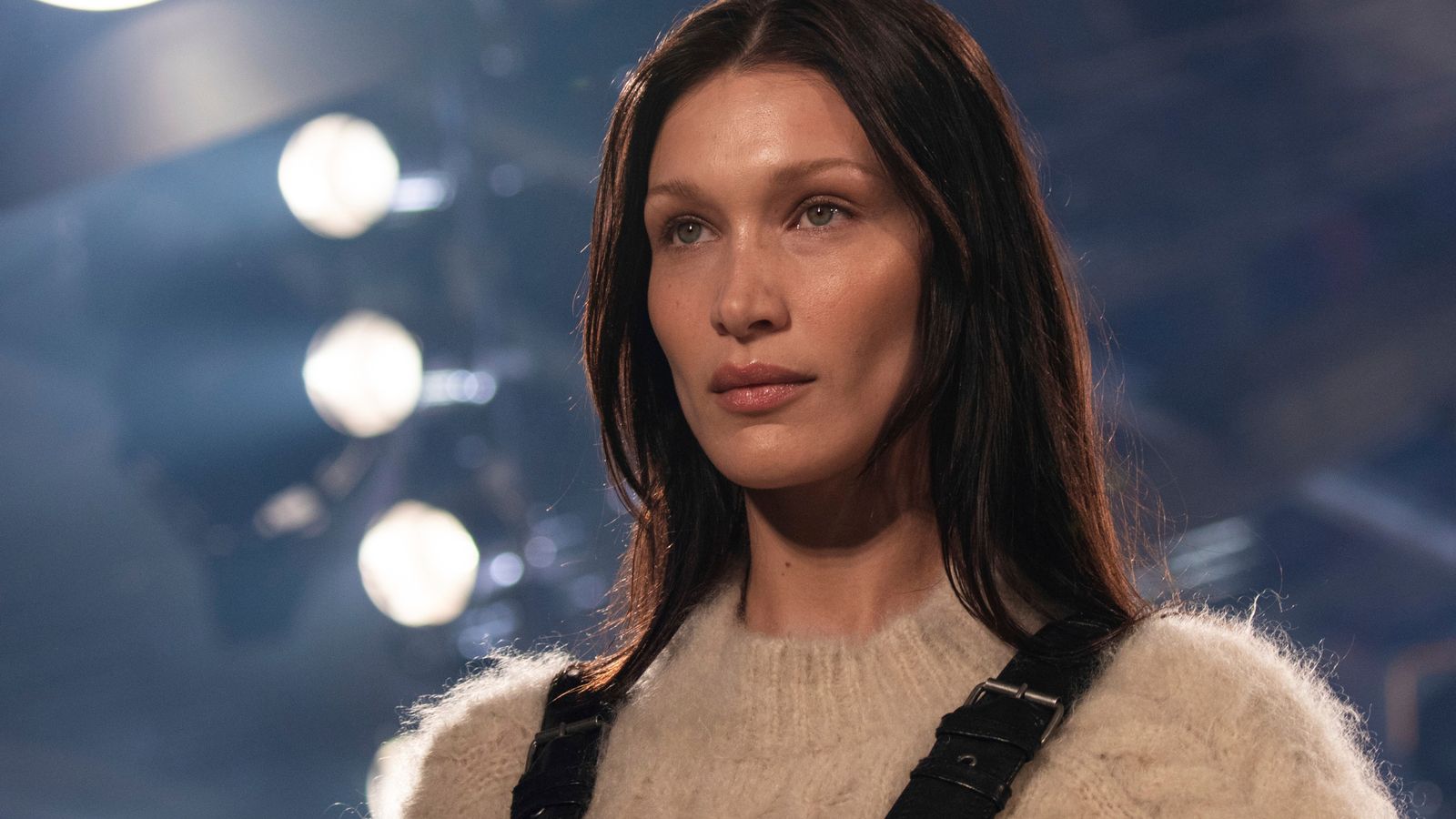 Supermodel Bella Hadid said she regretted having nose surgery when she was 14, and spoke about her struggle with mental health issues in a candid new interview.
The star confirmed that she was operated on as a teenager American Vogueafter years of speculation about her appearance.
Hadid also discussed what it's like to grow up to be known as the "uglier sister" compared to the older brother and sister Gigi Hadidalso a supermodel.
Speaking about the operation on her nose, the model, who is now 25, told the fashion magazine that she wanted not to do the procedure, and denied that she had any other cosmetic work.
"I wish I had kept the nose of my ancestors," she said. – I think I would grow up in this.
Hadid's comments led to the interview going viral online, with many wondering how the star managed to undergo surgery at such a young age.
Referring to rumors of another job and how her photos as a young girl are often compared online to later photos, the model said: "I'm sure you don't look the same now as you did at 13, right?"
"I have never used a filler. Let's just put an end to this. I don't have a problem with it, but it's not for me. Whoever thinks that my eyes have been raised or as they say – this is face tape! The oldest trick in the book. "
Hadid said he suffers from "impostor syndrome" and added: "People always have something to say, but what I have to say is that I have always been misunderstood in my industry and by the people around me."
"I was the uglier sister"
Later in the interview, she said: "When you are forced to be perfect every day, in every photo, you start looking at yourself and you have to see perfection at all times, and that is simply not possible.
Speaking of comparisons to his 26-year-old sister, Hadid said: "I was the uglier sister. I was the brunette. I wasn't as cool as Gigi, nor as sociable.
"That's what people really said about me. And unfortunately, when you are told things so many times, you just believe."
She said she often wondered how "a girl with incredible insecurity, anxiety, depression, body problems, eating problems who hates to be touched, who has intense social anxiety – what was I doing to get into this business?"
Hadid said she "became a good actress" and "always felt I had something to prove."
"I didn't know what I was crying about for so long"
Hadid said she is now making a conscious effort to protect her mental health after believing for years that she "has no right to complain" or have therapy because of her privileged upbringing and lifestyle of celebrities.
Subscribe to the Backstage podcast Apple Podcasts, Google Podcasts, Spotify, Sprinkler
"I didn't know what I was crying about for so long," she said. "I have always felt so lucky and it would make me even sadder.
"There were people online who said, 'You're living this amazing life.' Then how can I complain?
"I always thought I had no right to complain, which meant I had no right to receive help, which was my first problem."
Bella Hadid: Supermodel says she regrets having 14 nose surgeries and talks about pressure to be 'forced to be perfect' | Ents and art news
Source link Bella Hadid: Supermodel says she regrets having 14 nose surgeries and talks about pressure to be 'forced to be perfect' | Ents and art news