Tech
"Because my daughter will find a job on her 16th birthday"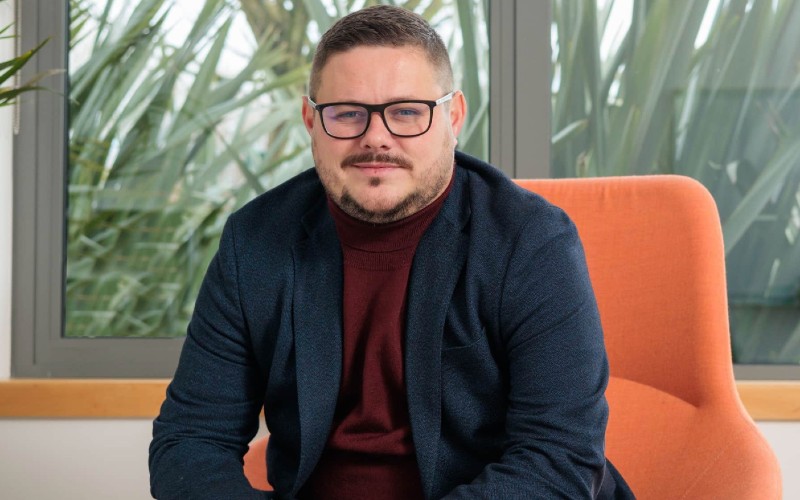 Star of the week
EnviroTech
Martin Smith will never forget a 16th birthday gift especially.
The teenager grew up in the Huyton area of ​​Liverpool and spent much of his childhood with his late grandfather Terry Smith.
"For my 16th birthday interviewed me for a job, "recalls Smith, who is the managing director of Dynamis Associates, based in Warrington, which has just raised £ 3.5 million in investment.
"He wanted me to learn the value of work and the value of money. My parents were the same, so when I was 16 I was told "if you want something, work for it".
"I learned a very important lesson the first time I went shopping for designer clothes and I thought 'I'm better off in Primark now that I'm using my hard-earned cash.' It was a life lesson ".
The 35-year-old intends to root in his children the same values ​​that his grandfather instilled in them, but more on that later.
Paternity
Smith is spearheading a quiet revolution in the UK renewable energy market, but admits it would never have happened if he hadn't become a dad at the age of 23.
He was working as a door-to-door salesman helping the public change their energy when his then partner, now wife, told him she was pregnant.
"I'm one of those guys who has never shied away from responsibility," he recalls. "The thought of having a child excited me but frightened me at the same time.
"I had to make a life adjustment and stop hanging out with the kids and put some financial security behind me so my three kids are safe now."
His first business was called Aberla, which now has an order book of £ 20 million and remains the largest single shareholder.
"It works with renewable energy," he says. "It has good internal contracts. He works a lot with building associations and does a lot of mechanical and electrical work ".
Prior to launching Dynamis, Smith successfully exited Sunlight Tech after selling the business to Octopus Energy. When he was enlisted as CEO in 2018, the business was worth £ 11.1 million, but was bought 18 months later for £ 14 million.
Ageism
Smith says he never cared what people think of his relative youth. "There is ageism," he says. "You have to be steadfast and confident in what you are doing and believe in yourself."
He launched Dynamis after seeing his grandmother sitting by a bar fire to keep warm.
"It happened after my grandfather died and she said she couldn't afford the bills on her own," she recalls. "I offered to pay them but she didn't let me because she is part of that proud generation. That's when the trigger went off (for Dynamis).
"People don't die every year because they can't afford to turn on the TV, but they die because they don't heat the house. You see it year after year in the newspapers and nobody does anything about it. This is the beginning of the origin of Dynamis ".
Although most renewables have focused on solar panels, Smith identified the potential of air-source heat pumps.
"We basically want to find an energy partnership with the consumer," he says. "We do not want to be a common installation company suitable for forgetting us.
"Whether it's a private individual or a large real estate association we work with, we don't just want to install, but understand how your systems work once installed.
"Energy can be confusing. We are here to say 'allow us to help you understand how you are using energy'. We have this knowledge and can help you save money. It's about not being a waste. "
Investment
The company is now planning the next stage of its growth after securing £ 3.5 million in an investment round led by Liverpool-based private equity investor Arete.
The growing company has been valued at £ 15 million as part of the deal and is on track to become the largest solar and heat pump installer within three years.
Arete's managing partner is Mike Fletcher, who is also Smith's cousin.
"We have a pretty direct relationship between us," admits Smith. "People assume that because we're cousins ​​it will all be cute and woolly, but that's far from it. I got a strict upbringing from him.
"Mike and the other guys from Arete were great. I'm always at the end of the phone. Their contacts within the industry are all of a high standard. The direction they give is fantastic. Mike in particular has been helping me for years now and expecting perfection. It is one of the reasons why he is so good at what he does ".
Family is clearly very important to Smith, which is why she is already planning the birthday present she will give to 11-year-old daughter Paige when she turns 16.
"I have this idea of ​​having a family-run pizzeria," he explains. "I want my children to have the same values ​​as me. By the time they turn 16, I hope to be able to put them in a safe work environment. At 16 you go to work.
"I don't want my children to be spoiled in any way, shape or form. I'll take care of them, but they have to work for pocket money. They do the dishwasher and tidying up.
"I've seen it where people spoil their children and don't understand the value of work. This will not happen with my children. "
Dynamis Associates CEO Martin Smith has been chosen as TechBlast's latest Star of the Week winner. Every Friday is given to the entrepreneur or entrepreneurs who have most impressed TechBlast in the previous seven days. We will publish the full list of 50 names at the end of the year. To name someone email

[email protected]
"Because my daughter will find a job on her 16th birthday"
Source link "Because my daughter will find a job on her 16th birthday"